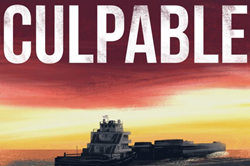 "The quality of Culpable is a reflection of what we can create," says Bozarth. "[Resonate Recordings] hopes to grow with Black Mountain Media to create more branded podcasts and custom, 'ground-up' productions."
LOUISVILLE, Ky. (PRWEB) August 08, 2019
Resonate Recordings, a full-service podcast editing service provider, recently released their latest custom podcast production, Culpable. Created in partnership with Black Mountain Media and Tenderfoot TV, this thrilling true-crime podcast has become an instant hit, reaching #1 in Apple Podcasts and generating an influx of leads for the case in question.
"Culpable" is an investigative true-crime podcast from Tenderfoot TV and Black Mountain Media, who have partnered with Resonate Recordings on other acclaimed true-crime podcasts like "To Live & Die In L.A." and "Up & Vanished." The series, which will "explore unsettled cases where those deserving of blame have somehow eluded justice," released its début episode on June 17th of this year. With just 9 episodes released of a planned 15-episode season, the podcast skyrocketed to the top of Apple Podcasts, consistently ranking in the top 20 over the last few weeks.
The first season of "Culpable" covers the tragic death of 21-year-old Christian Andreacchio of Meridian, Mississippi. On February 26, 2014, Christian was found dead in the upstairs bathroom of his apartment from a single gunshot wound to the head. After a 45-minute investigation, his death was ruled a suicide by the Meridian Police Department. Although MPD stands by their ruling of suicide, there is substantial evidence that points to his death being a homicide.
Jacob Bozarth, President of Resonate Recordings and co-founder of Black Mountain Media with the host of "Culpable," Dennis Cooper, says the idea for the podcast began when Christian's family first approached them at Crime Con in June of 2018.
"Rae came to us with her son's story and initially wanted to create the podcast herself," said Bozarth. "She shared hundreds of documents collected over the last few years from her investigations and research. We poured over the documents and saw for ourselves the red flags and inconsistencies. We knew we had to produce this project for her."
After putting all her resources into building a case for Christian, such as hiring forensic specialists, attorneys, and private investigators, Rae turned to the podcasting world as a way to bring her son's case out of the cold.
"Podcasts are a great medium to draw attention to otherwise forgotten cases and provide space for a rigorous, thorough investigation," said Bozarth. "There's so much more information you can cover in long-form storytelling. It's incredible to see how many listeners want justice for the Andreacchio family. We've received several tips since the release of the podcast, and we're hopeful the case will be reopened soon."
According to Bozarth, Resonate Recordings pulled out the "A-Team" for this particular project, bringing in local Louisville musician Dirt Poor Robins to write the score and calling upon the team's best audio engineers for sound design and audio mixing. Resonate Recordings takes pride in approaching their work differently than other podcast production companies. As a team of audio engineers, not just editors, Resonate Recordings brings a cinematic flair to sound design that is often required of true-crime narratives. The company hopes to continue to develop new shows in addition to its post-production services.
"The quality of 'Culpable' is a reflection of what we can create," says Bozarth. "We hope to grow with Black Mountain Media to create more branded podcasts and custom, 'ground-up' productions."
Based in Louisville, Kentucky, Resonate Recordings is a one-stop-shop for all post-production needs, from editing, mixing, and mastering your content to designing cover art and setting up hosting. This collective of audio professionals and branding creatives are motivated to both improve the quality of their clients' content and simplify the podcasting process. Let Resonate Recordings help you realize your podcasting goals. Contact them today to claim your free episode.
Media Contact:
Ashley Shadburne, Director of Marketing
hatfieldmedia.com
ashley@hatfieldmedia.com