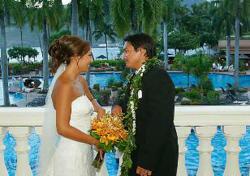 Koloa, (PRWEB) July 08, 2013
Maui'd Forever is one of Hawaii's few full service, all-Hawaiian Islands wedding planner and coordinator. Founded in 2003 by entrepreneur Mark Steffan, the company operates on the Hawaiian Islands of Oahu, Maui, Kauai and the Big Island of Hawaii.
The most popular wedding options are for the beach. The beaches in Hawaii are ALL public which means anybody can access them and anybody can do a wedding on the beach with a permit. Many resorts in Hawaii offer wedding packages that are held on the resort grounds or the beach that is below that resort.
There are some advantages to have a wedding at a resort but one will pay a hefty price for the privilege. Costs of doing a wedding at a resort are often 3-5 times more expensive than dealing with an independent wedding coordinator. Maui'd Forever uses the same vendors as the resorts so one does not get better quality or service. The main advantage or reason for doing a wedding at a resort is to utilize their grounds. One can have the wedding in a nice garden setting with the reception nearby at a resort.
If one is looking to have a large number of guests and needs a private catered reception and has a big budget, a resort wedding is probably the right thing to consider. Those that are having smaller and mid size weddings should consider the independent wedding coordinator route. One can save thousands of dollars and still enjoy the nearby resort. Often the resorts have picturesque restaurants where one can have reception without have to hire them for the wedding experience.
On the Island of Kauai Maui'd Forever has created a new package that uses the nicest resort on the whole Island. The grounds of this resort offer water features including waterfalls, ponds and exquisite gardens. The new package includes the permit to do the wedding on the beach right below this famous resort. After the wedding we can use their grounds for photo opportunities after the wedding. This new package also includes the minister, a fresh flower bouquet for the bride, 2 leis for the bride and groom, a minister of choice to perform the ceremony and a photographer of choice to shoot the wedding and do the after photos on the resort grounds. This package costs only $1495 for a savings of thousands of dollars vs. hiring the resort for the very same package.
Maui'd Forever owner Mark Steffan then suggests that "clients should have us make reservations for them at my favorite restaurant on the Island of Kauai called Tidepools. It is an open air, high end restaurant that sits on a water feature".
Speaking of resorts Maui'd Forever does offer them in their travel packages. Maui'd Forever President Mark Steffan says, "We use Pleasant Holidays for great pricing and selection. They do more travel packages to the Hawaiian Islands than anyone else including Travelocity and Expedia". Mark also says, "We are a full service wedding planning company that can do it all including travel packages to Hawaii. This one stop approach to planning a destination wedding can be godsend to many of our couples."
There is no cost to get a free quote for both the travel and wedding or vow renewal part of planning a romantic trip to Hawaii. Mark continues to say, "No one knows the Hawaiian Island better than us. We have done over 3500 weddings in Hawaii, Oahu, Maui and Kauai. We know every inch of the Islands and all the resorts and micro climates. Getting consulting from us is certainly much better than some travel agent that may have been to Hawaii once or twice."
Pleasant Holidays' also offers a Wedding Travel Desk, a team of experts who assist travel agents and their clients in organizing and planning dream destination weddings, honeymoons and romance celebrations that exceed expectations. Wedding Travel Services include a toll-free hotline with dedicated wedding travel specialists, flexible travel options, Pleasant Holidays' Travel Protection Plans, attractive wedding travel promotions, added benefits for the bride and groom, and the Honeymoon Registry for guest registration and gifts.
These travel deals can be combined with Maui'd Forever's Wedding Packages and vow renewal packages. These packages start at $299 and include everything needed to have a wonderful wedding or vow renewal on one of Hawaii's pristine beaches.