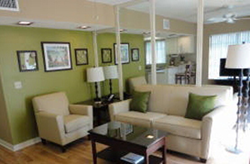 We will continue to expand our sustainable and 'green' efforts at Dover House to provide our guests with environmentally responsible surroundings.
Delray Beach, FL (PRWEB) March 21, 2014
Delray Beach Florida resort, Dover House Resort, a vacation and timeshare condominium complex, operated by Landex Resorts International, Inc., of Lehigh Acres, Florida, was awarded the prestigious "Florida Green Lodging Certification" by the Department of Environmental Protection's, Florida Green Lodging Program. This designation recognizes environmental leaders in Florida's hospitality industry. Dover House is proud to be a Florida lodging facility that has met requirements in sustainable settings and operation of the highest standards in environmental protection and preservation.
The award factors in a number of environmental practices in various areas of sustainable operations such as communication & education relating to customers, employees and the public; preservation; waste reduction; water conservation; energy efficiency; and indoor air quality.
Dover House General Manager, Leonardo Dahbur, points out that "this award is an exciting time for the resort. We work very hard to bring great customer service, communicate our initiatives to our guests and create the tropical look and feel they expect while they are in Florida."
Spearheading the green movement, Robyn Rocco/VP of Landex/CAM (community association manager at Dover House, reflected, "Since the renovation, the measured environmental and financial outcome has saved the resort 40% on their utility and energy operating expenses." Ms. Rocco also applauded Florida's supportive Energy Star program for tax incentives in association with the resorts green initiatives.
"We will continue to expand our sustainable and 'green' efforts at Dover House to provide our guests with environmentally responsible surroundings," adds Ruth Anglickis, President of Landex. We are excited to share our best management practices with timeshare properties in Florida who understand that now is the right time to make smart choices for sustainable practices and consumer awareness programs. There is an increasing demand in the timeshare and resort marketplace to improve visibility through sustainable and conservation measures. We are proud to be part of these conscientious efforts."
Dover House will continue their commitment to 'green practices' with annual upgrades, supporting new practices, and demonstrating that they can make a lasting impact on Florida's preservation for years to come.
About Landex Resorts International
Landex manages condominium, homeowner, property owner association properties, and timeshare associations in Florida. As licensed Realtors and Community Association Managers (CAM), Landex provides full service administration, fiscal budgeting analysis, property maintenance and turnkey management. Landex Resorts International is the parent company for Landex Property Management Division and Landex Realty, Inc. Founded in 1981 by Harry C. Powell, Jr.
Landex provides comprehensive and detailed service to commercial and residential condominiums, property owner, homeowner, and timeshares. Landex has memberships with many Florida community area Chambers of Commerce, the Better Business Bureau, ARDA, CAI Institute, FHMA, Fort Myers Board of Realtors and the Florida Board of Realtors. For more information, visit http://www.landexresorts.com.
###
Media Contacts:
Alison Drake
AD Marketing & Communications
Alison(at)admarketingteam(dot)com
239-337-9260
Ruth Anglickis/President
Landex Resorts International, Inc
info(at)landexresorts(dot)com
239-369-5845
Robyn Rocco/Vice President
Landex Resorts International, Inc.
robyn(at)landexresorts(dot)com
239-369-5874