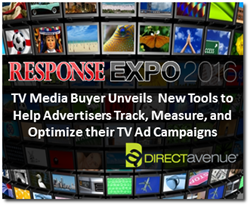 San Diego, CA (PRWEB) April 27, 2016
With so many new and emerging options available, TV advertisers attending this week's Response Expo in San Diego are feeling overwhelmed. "There's a lot of confusion in the marketplace; but we plan to clear up the confusion," said Scott Kowalchek, founder and CEO of DirectAvenue regarding why his company is presenting its new brand and new suite of client-focused tools at the San Diego convention.
The company's Website, http://www.DirectAvenue.com, was recently relaunched with the slogan "Expect More" branded on the home page. Why "Expect More"? As Kowalchek explains, digital advertising has become a free-for-all industry in which self-pronounced marketing and advertising gurus promote their ad system or platform as a "sure thing", deluding companies into spending millions with relatively small ROI. "We want advertisers to expect more from their media buyers and to trust the medium that was in existence 50 years before the internet was invented - TV advertising," said Kowalchek. "We constantly hear the steady drumbeat of young internet ad executives telling us that online advertising will replace TV advertising. All the latest revenue projections for TV advertising tell us this is not true and with our new tool set we guarantee advertisers that their greatest ROI will come from their TV ad campaign."
The headlines from recent industry forecasts seem to agree that digital ad spending in the U.S. will, at some point, overtake TV ad spending. However such forecasts have been made for quite some time now, with the only deliberation being about exactly when that shift will come. One key measure of TV advertising health — cost per thousand viewer prices — is expected to rise 7% to 9%, according to media estimates. All this comes in contrast to small CPM gains of a year ago when national TV advertisers had to pony up 3% to 5% price additions from the year before.
TV ads influence far more consumers to make a purchase than video or display ads, though social media ads (primarily consumed today on mobile devices) are second to TV among Millennials, according to MarketingCharts' ongoing research.
Along with its "expect more" brand, DirectAvenue is also presenting attendees with an unprecedented opportunity – a free analysis of their current TV ad campaign to demonstrate precisely how they will deliver a greater ROI than their current media buyer. "We've successfully managed hundreds of campaigns for some of the world's top brands and we've handled more than $600 million in direct TV billings since we started. Our new tools make us even stronger," said Kowalchek. With a suite of tools Response Expo attendees are looking for in their media buyer, Kowalchek and other DirectAvenue managers will be available for a free consultation throughout the show.
New DirectAvenue Tools to Ensure Direct Response TV Ad Success:
TIP – Our A Top-Down Investment Process (TIP) yields greater insights into the behaviors of their clients' media targets, ensuring the right media properties are selected.
POP – A DirectAvenue Pre-Optimization Process (POP) ensures media clearance and spending goals are met.
PAR – A Predictive Analytics Review (PAR) provides call centers and fulfillment partners with hourly call volume estimates on a daily basis.
PIT – A Partner Integration Team (PIT) establishes open lines of communication between all marketing partners and assists clients in finding the right back-end resources.
HDR – Access to High-Definition Reporting (HDR) ensures all parties get the insights needed to improve results.
DirectAvenue managers want new and current clients to keep in mind that while the company's website and TIP, POP, PAR, PIT, and HDR tools are new, there is one age-old acronym that means more to the company than ever – ROI. "We promise clients that they can expect more ROI from TV advertising than any other platform and they can expect more from DirectAvenue than any other media buyer."