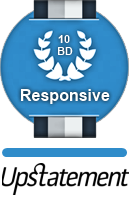 Boston, MA (PRWEB) September 11, 2013
Upstatement, a Boston Massachusetts firm was named as the second place winner for the Best Responsive Web Design Firms by 10 Best Design. Upstatement was founded in 2008 and has made significant progress in a new approach to web design called responsive web design (RWD). The background of the company is in news writing. Upstatement counts the Boston Globe.com, Boston College and Random House among their clients.
Responsive web design is the newest approach in web design. The user sees an optimal visual experience. The visual effects of the RWD site are easy, fluid and usable from computer screens to mobile phones. Below are a few elements of RWD that makes it different from other web design approaches.
Rather than take a design for a personal computer screen and try to reduce it to fit the screen of a mobile phone, the approach designs for the smaller screen first. Grids, images and queries are resized, panned and scrolled across each page. The images are based on proportion — percentages rather than absolute units such as pixels. Flexible images are likewise based on relative units, so that they don't display outside the containing element. The different types of media queries produce sites that load faster, so that mobile phones produce a faster, richer experience.
There are other newer approaches used in RWD and more are being developed all the time. To recognize the efforts of companies who are working in this exciting area, 10 Best Design includes industry professionals to identify the leading firms providing some of the best responsive web design today. These winning firms, from around the world, are being recognized because of their abilities to push the limits and capabilities of HTML5 and Web 2.0.
California is the home base of 10 Best Design. The team is comprised of persons from around the U.S. who have extensive experience in online branding and web design and development.