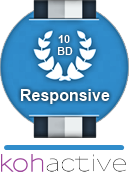 Chicago, Illinois (PRWEB) September 12, 2013
California-based 10 Best Design, an organization comprised of individuals from around the U.S. who boast experience in online branding and web development, recently announced the winners of its Best Responsive Web Design Firm awards which ranks companies that offer comprehensive web design (RWD). Coming in a respectable third place was Chicago-based Kohactive, cited by 10 Best Design for its drive to create a single website that scales and remains usable on a variety of devices and screens. Further, 10 Best Design praised the company's five-step process to creating apps and websites its clients will love and users will appreciate, allowing Kohactive to beat out dozens of other Web design firms in September to achieve the number-three position on 10 Best's list.
Kohactive builds and designs iPhone apps and responsive websites, overtly active on social media in creating apps that connect tech-savvy users with companies big and small. The firm's work includes Camp Groupon, its website powered by kohCMS, the firm's own content management system representing the type of demanding back-end that Kohactive excels at.
In second place of 10 Best Design's Best Responsive Web Design Firms awards was Upstatement, a Boston-based firm that handles a variety of sites for local outfits both large and small, while coming in first was DeepBlue, a responsive web design firm focused on increasing the visibility of the websites they work on.
10 Best Design's Web Design Awards have become renowned for tirelessly finding the best web designs from the top designers and developers. The organization puts these companies through a meticulous analytic process, allowing prospective customers to compare the top design and development firms based on a plethora of factors.
For further information, visit http://www.10bestdesign.com.