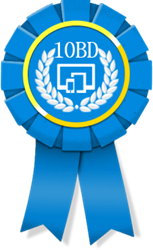 San Francisco, California (PRWEB) December 27, 2013
California-based 10 Best Design, a team comprised of individuals from around the U.S. who boast experience with PHP, JS, CSS, HTML and other advanced platforms, recently announced its Best Responsive Web Design Firms list for 2013. Out of the 10 total firms selected, California-based Cofa Media snatched the first-place position while Georgia-based Cadre and The Creative Momentum landed in second and third places, respectively. Created by industry professionals to bridge the divide between the outdated websites being used by even some of the largest web development companies and the capabilities of HTML5 and Web2.0, 10 Best Design has become the web's premier source for the top web design firms.
Cofa Media, the first-place winner in 10 Best Design's "Best Responsive Web Design Firms (RWD)" category, was recognized by 10 Best for its specialization in "functional art" and "interactive media," offering web design services backed by its team's creativity and detailed knowledge of the Facebook platform. The firm boasts clients such as Adam Levine and Soliant Consulting and is routinely mentioned in numerous case studies, furthering strengthening its "high quality work" reputation within industry circles.
Headquartered in Atlanta, second-place winner Cadre specializes in high-quality web design bolstered by powerful responsive web design applications in addition to an impressive client roster that includes Allstate Insurance, Coca-Cola, Intel and Delta Airlines. With an emphasis on eye-catching design and boasting a seasoned ability to incorporate company logos in ultra-creative ways, Cadre has been cited by 10 Best Design for "producing only the best work for its clients." Also based in Atlanta, third-place winner The Creative Momentum specializes in web designs that "tell a story," with over 20 specific web design services offered. The Creative Momentum has been recognized by 10 Best Design for its dazzling array of design choices and services to suit any client.
Leading places four through 10 on 10 Best Design's Best RWD list, Southern Web Group – it too based in the Atlanta region – was recognized for delivering high-quality, results-driven web design services, its team members highly practiced in programming languages essential for online design including HTML5, PHP and CSS3. The remainder of rankings, five through 10, was occupied by Inflexion Interactive, Forix Web Design, Image Works Creative, Buildrr, Forge and Smith and Cynexis, respectively.