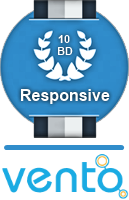 New York, New York (PRWEB) August 14, 2013
Vento Solutions has been ranked fourth in 10 Best Design's list of the 10 Best Responsive Web Design Companies for their innovative thinking, classy web design and dedication to the details that take the usual and make it extraordinary.
Vento, which means wind in both Italian and Portuguese, is a responsive design firm that takes its inspiration for the element of air. Based out of New York and San Francisco, they strive to embody the wind's strong but adaptable characteristics and translate them into versatile web designs tailored to meet the needs of each user, including those people who use untraditional methods of access.
Their classy, high-end, boutique designs are focused on brand identity which is achieved through flawless, well thought out tactics that set their clients' websites and products apart from and above the rest. Their own website it clean, bright and minimal. It is easy to navigate, and information is streamlined to guide users where they need to be. Individualized icons mark the beginning of new and important information while providing touches of color and style. These features are consistent throughout their website.
Vento Solution's portfolio is very diverse, and each website is different because it is customized to meet the needs of their patrons individually. Regardless of the differences, their designs are always elegant in appearance and performance.
Their clients hail from everywhere, both geographically and contextually. Geographically speaking, their clientele stretches from Rio de Janiero to Hong Kong and from Sydney to Rome. Industry-wise, customers range from individuals to big biomedical firms and spans non-profits, local businesses, and e-commerce customers in-between. Clients include Chronix Biomedical, the Coletti Foundation, Expose SF, Ice Fox Vodka, and HM the King Scotch.
The services they provide are nearly as diversified as their portfolio. The Vento Solutions team is available for web design, web development, search engine optimization, online marketing, IT solutions, and e-commerce.
Vento's dedication to every client has not gone unnoticed. This isn't the first award Vento Solutions has received from 10 Best Design. Last year, they were named the #1 best web design firm. They were also awarded a place on The Top Tens' lists of both Top Web Development Companies and Top Website Design Companies. They are also a Bloomberg Businessweek featured company and appear on TechCrunch's CrunchBase website.
The critically acclaimed Vento Solutions is a no nonsense company that takes their business and the businesses of their clients very seriously. The responsive web designs Vento Solutions provides are sleek but comfortable and undoubtedly appealing in the most decadent way.