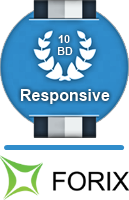 Portland, Oregon (PRWEB) August 15, 2013
Forix has been named the fifth place winner in 10 Best Design's list of Top Responsive Web Design Agencies for their ability to take design problems and turn them into creative, visually attractive solutions for users accustomed to holding the digital world in the palm of their hand.
Solidly based in Portland, Oregon, Forix Web Design was founded in 2007 and unpretentiously opened its doors with a small crew and big ideas. Since then they have been responsible for over 750 successful websites and nearly 60 apps. Their team has also doubled in size multiple times, and the company has won over 15 awards.
Their current fifty-eight member team is made up of seasoned project managers, experienced software engineers, creative designers, innovative UX designers and obsessive quality assurance testers. This crew does it all; the services and products they offer include web design and development, e-commerce, mobile apps, and digital marketing.
Forix's designs utilize large pictures or graphics, clean lines, and the juxtaposition of light and dark colors to make intrepid statements. Their own website is the perfect showcase of what they do best. Primarily white with pops of green text and icons, the simplicity of the site allows the viewer's eyes to focus on the pictures and important headlines which are sparingly laid over top. Instead of overwhelming each page with too much information or creating complicated and disruptive design elements, they allow the client's product or service to shine through the design.
Much like a good drum line shapes a song without muddling the melody, their responsive web designs shape the experience without distracting the consumer from the intended focus. The mobile iteration is simply a miniature reorganized version of the regular site which streamlines information in order of importance. These are just some of the features and design elements they pass on to clients smart enough to hire them.
The company has caught the eye of multi-national companies including Adidas and Labelmaster. They also work closely with members of their local community to foster strong independent businesses in their own neighborhood. Oregonian clientele includes Sinju Sushi, Northwest Door, and Ninkasi Brewing Company.
The people behind Forix are dedicated to more than just their clients and their local community. The Forix blog is full of tips and tricks for web designers who are just starting out or trying to break into the business. They are giving their future potential competitors a starting leg up in order to foster a well-educated base of web designers. The information they freely make available is a testament to their dedication to their craft and a community of quality creative designers. They even supply tips on how to find the best web design team for the client's individual needs, even if that means another firm is better for that particular client than they are.
Forix's work is bold, clean, concise, and leaves no room for confusion or clutter. Their transparency as a company is refreshing in a society obsessed with the every man for himself mentality, and their dedication to a world full of well-informed technological artists and clients is worth mentioning more than once. Forix leads by example, as a responsive web design firm, a community partner, and a group of people dedicated to the betterment of their craft.