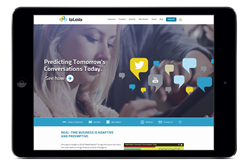 Seattle, WA (PRWEB) April 30, 2014
Local online marketing firm, Efelle Creative, launches a new responsive website design for Seattle-based real-time marketing company Blab Predicts. Blab has created a platform that allows businesses to predict, up to 72 hours in advance, which social media conversations are going to be important.
By giving companies the ability to steer trending content, Blab's product will help marketers consistently stay one step ahead. Blab's unprecedented approach to conversation categorization and patterning gives marketing teams game-changing insights and predictive social intelligence. Blab believes the power of real-time marketing will allow companies to be more relevant, engaging and in tune with their consumers.
As a new start-up it was important that Blab's website properly exemplify their company's brand and offerings, while offering a quality user experience. Efelle Creative partnered with local branding firm, Eben Design, to execute the project. Blab's new website offers a highly-branded, interactive and engaging user experience. The new custom website design provides detailed product information, lists services, and conveys the overall look and feel and user-experience of Blab's product in a web design experience.
Blab's new website is powered by Efelle's website content management system, FusionCMS, which allows Blab to update all components and content on their website. Blab's site features full-width background video and a long homepage design. Blab's website is also responsive --so site visitors can enjoy a quality user experience from any device. Other features of Blab's new website include e-mail newsletter functionality, an events calendar for marketing their upcoming webinars, a company blog, staff profiles, and more.
To check out Blab Predicts' new website, visit http://www.blabpredicts.com.
To learn more about Efelle Creative, visit http://www.seattlewebdesign.com.
About Efelle Creative
With more than 450 successfully completed custom website design and development projects under its belt, Efelle Creative continues to work with a variety of business entities in dozens of industries, from start-ups, non-profits, and local small businesses to large national and international corporations. In addition to its eCommerce website platform, Efelle Creative also offers other custom online marketing solutions including web design and website content management for professional service firms, law firms, real estate industry companies, chambers of commerce, and more.