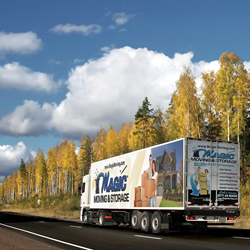 [T]he site loads much faster now, despite the larger full screen layout used.
Walnut Creek, CA (PRWEB) March 08, 2016
Realizing that more website visitors were coming from mobile devices, Magic Moving & Storage - a professional moving company specializing in local and long-distance relocations - decided it was time to enhance their website. Working with KO Websites, Inc., this Bay Area moving company launched its new mobile responsive website this week. The new website is built on the popular content management system called WordPress.
The new website offers informative information on:
Movers rights
Free moving and storage space calculators
Movers' checklist
Helpful tips about moving with kids and pets
Money saving tips
Magic Moving quality ratings
"Every feature and online tool that a desktop user has enjoyed before is now also available via a mobile phone" said O'Donnell. "Plus, the site loads much faster now, despite the larger full screen layout used." This provides a high quality, professional user experience, something the company takes pride in and can also improve the site's search rankings.
In addition to moving and packing services, Magic Moving & Storage provides full-service storage solutions in a secure climate-controlled warehouse. For more information, Magic Moving & Storage invites you to visit their new website and contact them for a free estimate.
About Magic Moving
As one of the best and most reliable moving company in the San Francisco Bay Area, Magic Moving has provided over 100,000 relocations since 1990. Whether you're moving across town, cross country, or overseas, Magic Moving can help you move your home or business. They offer full-service packing, moving, and storage services. 100% licensed, bonded, and insured. Nobody "likes" moving like they do - and it shows! http://www.magicmoving.com.
About KO Websites
KO Websites is an award-winning web design and digital marketing firm based in the San Francisco Bay Area. They offer mobile friendly, responsive web design and search engine optimization (SEO) services.Through its sister brand (SEOPRO.pro), KO Websites also offers the "All n1 Power Plan." This digital marketing package includes full-service social media marketing, SEO, website management, hosting and more. For questions regarding any aspects of web design or online digital marketing, contact the team at KO Websites http://www.KO-websites.com.