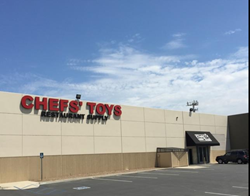 The Corona warehouse has helped to expand our presence in the Inland Empire. The response from local restaurant and foodservice operators has been fantastic."
Corona, CA (PRWEB) October 01, 2015
Chefs' Toys, the leading restaurant equipment and supplies company in southern California, announced its 6th store today. This newest store is located at 231 Teller Street in Corona, CA serving, chefs, foodservice operators, food manufacturers, caterers, other food professionals and home cooking enthusiasts. The Corona location is located near Sampson Avenue and N. McKinley Street near the 91 and the 15 freeways. The store hours are 7:30 am – 5:00 pm Monday through Friday, and on Saturday 9:00 am – 3:00 pm.
"We are very excited about our new location in Corona," says Steve Dickler, President of Chefs' Toys. "We looked for a long time for what we think is the perfect location for this market. The Corona warehouse has helped to expand our presence in the Inland Empire. The response from local restaurant and foodservice operators has been fantastic."
With this newest location, the Corona Chefs' Toys warehouse store serves customers in cities in the Inland Empire such as Riverside, San Bernardino, Claremont, Pomona, LaVerne, San Dimas, Ontario, Palm Springs, Palm Desert, and Temecula.
"Business has exceeded our expectations since we launched in July," says Mike Wake, Chefs' Toys Store Manager at the new Corona location. "Like other locations, we are selling commercial refrigerators and freezers, ice machines, fryers, chefs' knives, knife sharpening, chefs shoes, mats and glassware."
Customers are happy too. Chef Chris Daly on twitter posted recently, "@Chefstoys so excited (you're) in Corona!"
For more information, customers can visit the Chefs' Toys Corona Store at 231 Teller Street in Corona, California. The store telephone number is (951) 739-9222. Public is welcome. The company's website is http://www.ChefsToys.com.
About Chefs' Toys
Chefs' Toys, with its start in 1988, is the leader in Restaurant Equipment sales in the southern California marketplace. With over 140 staff and 20 commercial trucks, Chefs' Toys offers 6 consistently designed retail stores in southern California, and has a 34,000 square foot distribution center. Offering over 8,000 products and supplies, with excellent relationships with the top brands in the restaurant space, and knowledgeable employees including trained chefs, Chefs' Toys is well positioned to continue to provide commercial equipment, professional products, services and supplies to the foodservice industry. In addition to Corona, Chefs' Toys Orange County locations include Anaheim and Fountain Valley. Its Los Angeles area locations include Torrance, Van Nuys, and West Los Angeles.
###