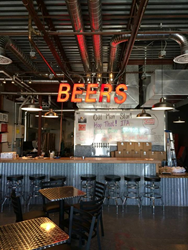 We will definitely tell everyone about the outstanding service and follow through we received from Contract Furniture Company! We wish we had found you earlier! Thanks, 3 Freaks Brewery
Highlands Ranch, CO (PRWEB) July 09, 2014
Noted commercial furniture provider, Contract Furniture Company, had the recent pleasure of being able to help out a business in need - 3 Freaks Brewery in Highlands, Colorado.
Open since June 14, 2014, 3 Freaks Brewery is owned and operated by husband and wife Jeff and Suzanne Atencio. For the past 25 years, brewing tasty beer has been a passion for Jeff, one which has garnered him a loyal local following of fellow craft beer lovers. For this reason, when it came time to choose a location to bring these "home brews" to the public, the Atencio's decided to keep it close to home.
On tap at 3 Freaks Brewery are four of the beers that people have come to know and love: Last Man Standing Belgian Dubbel, Odd Man Stout, Hop That! IPA, and Lucky Clover Irish Red Ale. In true brewery fashion, beer is primarily what's available here. Those looking for food to accompany their crafted beverage can enjoy the neighboring restaurant, or sample the fare that visiting food trucks bring to the brewery.
Notable features of the 3 Freaks Brewery include: WiFi Wednesdays, where patrons receive $1.00 off all drinks before 5 pm and free WiFi; the Mug Club, where the purchase of a 3 Freaks mug entitles the bearer to Happy Hour prices at all hours, limited to the first 100 people to sign-up; and the Growler Club, where when you purchase 11 growlers (64-ounce glass bottles of beer) at the discounted rate, you get the 12th one free - no limits, no restrictions!
Many of the furnishings within the brewery were custom made for the space, and initially the Atencio's worked with another furniture provider for their table tops, table bases, chairs, and bar stools. Ordering their furnishings three months in advance of their opening date, Suzanne and Jeff believed that they'd covered all of their bases. Then, they hit a major snag. The company they were working with kept giving them the brush off when the Atencio's tried to pin down a delivery date. After much back and forth, a delivery was finally made to Jeff and Suzanne's 3 Freaks Brewery ... a delivery that included all products except their much needed table tops, and with their Opening Day just a week and a half away.
So how did Contract Furniture Company get involved? Suzanne Atencio shares her story: "We needed to quickly find table tops. I knew the style we wanted. I looked online at the BBB website and found that the company that had given us the run around had a D- rating! I looked for a company with an A rating and found Contract Furniture Company. I called and relayed my story to [Project Manager] Carrie and she kindly waived the small order fee for us. And, the stainless steel table tops got to us within two days, and Contract Furniture Company even accommodated our special shipment dropoff needs. We learned our lesson and will now ALWAYS check with the BBB before ordering online."
The stainless steel table tops that 3 Freaks Brewery ordered feature a brushed steel design and a rolled edge for easy cleaning. Built with a moisture-resistant fiberboard core, these restaurant table tops are designed to withstand the wear-and-tear of everyday use in a commercial setting.
Visit us online to see Contract Furniture Company's huge selection of commercial quality restaurant chairs and bar stools, restaurant tables and booths, and outdoor heating and market umbrellas at http://www.ContractFurniture.com or talk with a Project Manager at 800.507.1785
3 Freaks Brewery is located at 7140 East County Line Road, Highlands Ranch, CO 80126. You can contact them at 720.299.0994.