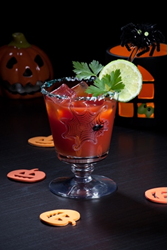 Desejo do Brazil is located in Paddington, in the heart of London,
London, UK (PRWEB UK) 16 October 2014
Halloween is just right around the corner and it is time to embrace the Enchanting dawn of autumn days, the time of rain and storms.
Halloween is a holiday celebrated on the night of October 31, including traditional activities such as trick-or-treating, bonfires, costume parties, visiting "haunted houses" and carving jack-o-lanterns. Irish and Scottish immigrants carried versions of the tradition to North America in the nineteenth century and later escalated to other countries worldwide.
With the famous event just a few weeks away, London is gearing up for a spooky night of horrific dancing and infectious music taking to the streets.
During this horror season explore Richmond Park in the dark for a thorough spooking this Halloween. Meet your horse-drawn carriage at Sheen Gate and embark on an hour-long tour, all about the history of the park, the ghosts that haunt the grounds and a Victorian murder that was only solved in 2010. Tucked up under blankets with a glass of sloe gin in hand guests will also hear all about the gnarled Shrew Ash, an ancient tree that was once thought to cure ailments with the help of a congregation of witches.
With plenty of ghoulishly fantastic parties on the 31st, London has gone off the scale this year. The Kiss FM Haunted House Party in Hammersmith will be one of the best Halloween parties this year as pop-loving radio station Kiss FM crams a load of contemporary chart-raiders into the Apollo. Beat-mashing MC Example tops the bill, with hit makers such as Clean Bandit and Gorgon City already announced, and many more.
London is home to a huge number of multi-cultural restaurant, Food is important during a night out, with plenty of multicultural restaurant in Paddington London that are celebrating Halloween in cultural style. This is a perfect experience to see how diverse London is. The famous Desejo do Brazil in Paddington is celebrating in a unique style.