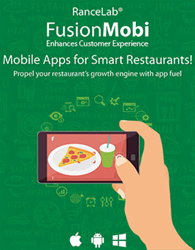 We built FusionMobi so that restaurant owners can add a wow factor to the customers' experience.
Kolkata, India (PRWEB) April 14, 2016
Customer experience and the food quality are two of the most important factors in the success of a restaurant. While most restaurants focus on the 2nd aspect, improving the experience of the guests can add to their pull factor and positive publicity. FusionMobi is a suite of mobile apps that improve the customer experience and brings in more sales and profits.
"While talking to FusionResto customers, we realised that they were very happy with the restaurant management and operating aspects. However they suggested that the customers need a wow factor and we built FusionMobi with just this wow factor in mind," said Navin Ladha, founder & CEO of RanceLab.
FusionMobi includes Mobile-POS and E-menu, which allow the guests to view the menu choices with pictures and descriptions enabling them to select and order dishes with confidence. It also saves the hassles of reprinting the menu after every change.
The orders get displayed immediately in the kitchen saving the captain from having to visit the kitchen to submit orders. This way he can focus more on providing elegant service than running around.
After the bill is settled with the mobile wallet increasing the security of the payment, the guest is presented with an electronic feedback form which makes reviewing and acting on the feedback much easier.
"We have modules for in-house dining as well as takeaways and phone ordering. Phone orders can be accepted by a call centre and automatically routed to the nearest delivery centre for the most efficient fulfilment," reported Nilesh Shah, director of RanceLab. He added, "Call centre operators can retrieve ordering history to help the customers quickly order their favourite items or choose new items to try."
Restaurant, QSR and food court owners get real-time updates on the sales and other parameters enabling them to take timely action for improving service and food quality when needed. Updating token number display with the pick-up counter number makes it very easy for the food court customers to pick up their ordered items and enjoy the food cutting down on the wait time.
It is imperative for business owners to take advantage of the new technology to improve operational efficiency and the mobile apps are the in-thing today. The apps in this suite are specifically developed with the aim of increasing profits for the restaurants and aptly called app fuel for the restaurant's growth engine.
About FusionMobi:
FusionMobi is a suite of mobile apps for profitable operation and increased profits in a restaurant, QSR, food court or food home delivery companies. Visit http://www.rancelab.com/fusionmobi/ for details and requesting a personalised demo.
About RanceLab:
RanceLab develops and markets mobile apps (http://www.rancelab.com/fusionmobi/), restaurant billing & management software (http://www.fusionresto.com/) and retail software (http://www.fusionretailsoftware.com/). They have more than 4000 installations across India and countries like India, UAE, Saudi Arabia, Qatar, Bahrain, Oman, Kenya, Nigeria, Tanzania, Uganda, Mauritius, Vietnam, Cambodia, Bhutan, Nepal, Bangladesh, South Africa, Botswana, Zambia, New Zealand and USA.
A personalised demo can be requested by calling +91-98319-26662.
###