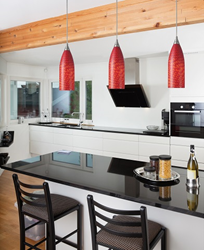 Hanging restaurant style lights above a kitchen island can go a long way towards replicating the intimate atmosphere of a restaurant or bar, both by improving the mood lighting and by enhancing the ambiance of the space itself.
(PRWEB) December 16, 2014
HomeThangs.com – the Online Home Improvement Store has made their goal to deliver the right product to the consumer. With that in mind, shopping and home design tips, as well as special product selections are being introduced.
Restaurant style lighting is a perfect pair for a kitchen island with counter seating. These simple pendant lights evoke the relaxed, casual atmosphere of restaurants and bars and cast a warm light that encourages intimate conversations and can even make food look more appetizing. HomeThangs.com has introduced a guide to choosing the right pendant light, as well as how, where, and how many to hang.
Restaurant style lights typically have a very simple colored glass shade, but when choosing one for a kitchen island, there's a lot more variety than is typically found in an actual restaurant, both in terms of color, size, and shape. While the shade itself should almost always be glass, in addition to basic dome shapes in primary colors, unusual shapes and patterns are fair game, as long as they echo at least one other element in the kitchen.
The light these fixtures produce should be bright enough to see by, but keep in mind that restaurant style lights are more for atmosphere than functionality, so they shouldn't be a major source of task lighting. Instead, they should highlight the counter eating area and cast a warm, inviting glow where the food will be served. How high the lights should be hung and how far apart they should be spaced depend a lot on the size and shape of the island as well as the height of the chairs and the people that will be using them, but HomeThangs.com's new guide offers a few simple rules of thumb to help get these measurements right.
For more information about giving a kitchen island eating area a restaurant-like atmosphere, check out the full article here.
HomeThangs.com is not only a home improvement superstore, it also provides expert design tips and a comprehensive shopping guide, taking the ideas from professional interior designers, and offering tips to the consumers on how to pick the products to best suit their needs.