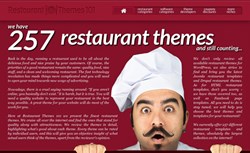 Our website uses a completely custom built WordPress theme with many great features added to help you find your perfect theme out of an enormous ocean of themes dedicated to this niche
Amsterdam, The Netherlands (PRWEB) October 30, 2013
Restaurant Themes 101, a website that is dedicated to offering themes and templates that can help people build a memorable website for their restaurant, has just launched its brand new and user-friendly site. The website, which was created by 101 Themes, is the first of its kind to be devoted to the restaurant niche. From the owner of a deli who wants to find the best restaurant website templates available, to a taco shop manager who is looking for restaurant website themes, the new site is a one stop template and theme shop that will help restaurant owners get noticed on the internet.
According to information at http://restaurantthemes101.com, there are currently 269 total themes and templates that are available on the website, as well as hundreds of different screenshots. The founders of Restaurant Themes 101 are committed to finding premium themes that are appropriate for the restaurant industry. In addition, unlike other theme collections that may offer ideas and solutions for just one content management system, the new site features themes that will work with multiple CMS and software. This means that all sorts of platforms are reviewed on the site, including WordPress restaurant themes, Joomla restaurant templates, HTML restaurant templates, and Drupal restaurant themes.
"Our website uses a completely custom built WordPress theme with many great features added to help you find your perfect theme out of an enormous ocean of themes dedicated to this niche," an article on the new site explained, adding that although the site has the most complete collection of restaurant themes available, it does not mean it will be difficult to select the right one.
"Each and every theme has been reviewed and they all come with perfectly written descriptions with the best features highlighted and explained. Aside from written descriptions, a separate box is included, which displays all the important theme characteristics summed up."
Anybody who would like to learn more about Restaurant Themes 101 is welcome to visit the new and easy-to-navigate website at any time; there, they can browse through the huge selection of themes and templates that are available. Visitors can search for their favorite restaurant themes by categories that include software, developer and restaurant type. For example, by selecting "HTML restaurant templates" and "Chinese," people will find themes that are ideal for this type of restaurant.
About Restaurant Themes 101:
Restaurant Themes 101 is a new website that was created by 101 Themes (http://101themes.com/), a company that specializes in custom WordPress solutions. For more information, please visit http://restaurantthemes101.com/.