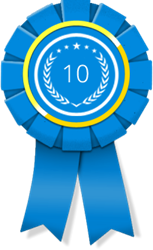 SAN FRANCISCO, Calif. (PRWEB) June 30, 2015
10 Best Design, a San Francisco, California online branding company that understands the immense value of restaurant web development, has compiled a list of some of the best restaurant web design firm operating in the marketplace. 10 Best Design knows that if a dining establishment wants to attract brand new customers, a superb web presence can go a long way. And in today's fast-paced Internet world, a great website is the key to success. Consequently, it issues awards to point restaurant owners in the direction of premium restaurant web design services.
10 Best Design named New York, New York's Blue Fountain Media as the top restaurant web design business. This full-service firm employs unparalleled digital marketing techniques to aid businesses in getting their messages out to the appropriate audiences. Blue Fountain Media relies on a blend of app development, innovative website design and Internet marketing solutions to aid dining establishments in finding more customers. Search engine optimization (SEO) is a big focus for Blue Fountain Media.
Coming in at Number 2 on 10 Best Design's list is Washington, D.C.'s Old City Press. This restaurant web design agency utilizes all different varieties of modern media to assist their clients in setting up smart and successful marketing campaigns. Old City Press' dedicated and knowledgeable team members collaborate closely with their clients to draw in potential customers. Some of Old City Press' various specialties include eCommerce techniques, responsive web design and search engine optimization. The goal at this company is to make sure that businesses remain both competitive and connected.
The Big Apple's NYC Restaurant came in third on 10 Best Design's highly respected list of leading restaurant web design businesses. NYC Restaurant takes advantage of its A+ expertise in subjects such as online media and content management to assist their valued clients in thriving in the restaurant world. Although restaurants are indeed a major focus for them, they also regularly work with bars. NYC Restaurant's tried-and-true techniques assist businesses in marketing themselves to area customers who are in need of what they have to offer. In addition, NYC Restaurant establishes analytical reports that allow beverage and food businesses to understand exactly what's going on. These detailed reports also inform these businesses on the effectiveness of their campaigns. This company employs search engine optimization practices to guarantee that their clients are getting strong rankings in search engines. NYC Restaurant's approach is to customize individual business plans for all of their clients.