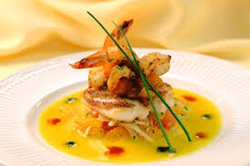 Dining out is favorite thing to do during a stay at a San Diego hotel such as Declan Suites, and with many new Restaurants in San Diego, there is always something new to try.
San Diego, CA (PRWEB) July 22, 2014
Dining out is favorite thing to do during a stay at a San Diego hotel, and with new restaurants in San Diego coming on the scene, there is always something new to try. Below are a few of top new restaurants to consider during a summer stay. Declan Suites welcomes summer guests with impressive special offers. View offer details >
Juniper & Ivy
2228 Kettner Boulevard San Diego, CA 92101
Tel: 619-269-9036
This fine dining restaurant in San Diego features an open kitchen so guests can watch all the action. Juniper & Ivy has an impressive wine list and serves amazing food that is perfectly presented.
Peri Peri
7845 Highland Village Place San Diego, CA 92129
Tel: 858-539-2282
This new restaurant in San Diego offers South African fare such as prawn papaya salad, carrot and ginger soup and South African style beef curry. Vegetarians will love Peri Peri as there are plenty of meatless options on the menu.
Werewolf
627 4th Avenue San Diego, CA 92101
Tel: 619-234-0094
This pub serves delicious American food for breakfast, lunch, and dinner. Choose from burgers, sandwiches, tacos, appetizer, and plates. Located in the Gaslamp neighborhood, this spot is a great choice for guests staying at top San Diego hotels.
The Cravory
3690 West Point Loma Boulevard San Diego, CA 92110
Tel: 800-591-2571
For visitors who are craving a cookie, this is a wonderful choice. This spot is billed as the "ultimate cookie experience." That might sound a little lofty until one bite of one of their signature flavors such as salted caramel cream, almond joyous, or chocolate truffle. More adventurous choices like pancakes & bacon, and rosemary balsamic also rotate through the menu.
ZIGZAG
333 North Myers Street Oceanside, CA 92004
Tel: 760-433-1555
This dining spot is a bit outside of the City, but they offer diners the chance to design their own pizza or chopped salads by choosing from a long list of fresh ingredients. ZIGZAG also offers an impressive selection of 50 craft beers.
About Declan Suites San Diego – A San Diego Hotel:
Both business and leisure travelers find the San Diego Accommodations at Declan Suites San Diego to be a perfect choice. Our San Diego Hotel is an all-suite property, and our 2-room guest suites are some of the largest in the city.
Declan Suites San Diego – A San Diego Hotel is conveniently located adjacent to Symphony Hall. Our luxurious Hotel is also within walking distance of some of the most popular San Diego Attractions including the San Diego Zoo and some of the city's top Museums.
A host of dining and shopping options are also available near our Downtown San Diego Hotel, but you don't have to leave the building when you're hungry. We have an onsite restaurant for those nights when you'd rather stay in and get a little work done or, perhaps, enjoy the gorgeous views of the San Diego skyline from your Guest Suite.
Our 24-hour fitness center, knowledgeable Concierge, and thoughtful amenities are a few of the other features of our San Diego Hotel that make us a top choice for business and leisure travelers and with return guests.
Planning a trip to San Diego? Choose Declan Suites San Diego. Our fabulous location, well-appointed Guest Suites and exemplary service make our Downtown San Diego Hotel an ideal choice. Check rates,
make reservations or call 800.483.8173.
Take a photo tour of Declan Suites San Diego and of the beautiful city of San Diego.