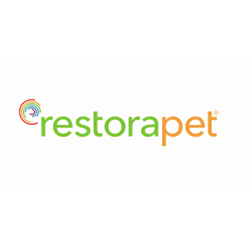 Just as pet parents everywhere have taken steps to ensure their pet's well-being during quarantine, we must also prepare them for a transition back to normal life.
GAITHERSBURG, Md. (PRWEB) May 13, 2020
As states begin to plan their post-pandemic re-openings, many of us will hopefully be returning to work, developing a "new normal", and dealing with the anxiety that comes along with these changes—both in people and pets. RestoraPet, a pet health supplement that restores wellness in older pets experiencing age-related decline, boosts the health and well-being of younger pets and helps pets of all ages deal with anxiety issues, wants to remind pet parents that this will also be a stressful time for their four-legged family members.
The ASPCA reported that pet adoptions and fostering increased during the pandemic. To help these new pet parents as well as the most experienced pet parents, RestoraPet CEO and pet health expert Brian Larsen compiled tips for pet parents looking to ease the transition and reduce separation anxiety felt by their pets.
"Pets everywhere have thoroughly enjoyed the extra time spent with their favorite humans over the past few months," said Larsen. "Just as pet parents everywhere have taken steps to ensure their pet's well-being during quarantine, we must also prepare them for a transition back to normal life."
"Think of this transition as a 'back to school' time, when pets might start to act out as the house goes empty after months of a full house," he added. "Chewing and destroying furniture, cries for attention, and endless crying or barking are just some of the issues that will arise, possibly even more so for the newly adopted pets who have become accustomed to constant human companionship. Preparing furry family members for this transition while we are still at home can help save us time, money and anxiety later on when we are trying to adapt to the 'new normal.'"
Larsen's tips for easing the post-pandemic transition:

Disassociate certain cues from your departure – Routine cues associated with your pet being left alone, such as picking up your keys or putting on shoes, can cause your pets to behave anxiously before you even have a chance to leave the house. For this reason, it is important to disassociate your leaving from these routine tasks. This can be done by exposing your pet to these cues in various orders several times a day—without leaving.
Create positive associations with your departure — Doing something nice or fun for your pet (such as giving them a small, healthy treat) every time you leave the house will help them to associate your leaving with something pleasant, and thereby minimize or offset other distress they might feel.
Practice gradual departures – To ease separation anxiety, start slowly by only leaving your pet alone for a short amount of time at first. The ASPCA recommends planning your absences to be shorter than the time it takes for your pet to become upset. As they become more confident in your intent to return home, you can try leaving them for longer amounts of time. Some dogs also benefit from the use of a "safe" word to reassure them that, although you're leaving now, you will return.
Try a CBD supplement – CBD products include cannabinoids and terpenes that have a multitude of proven wellness benefits, such as reduced anxiety, without producing the "high" that is often associated with hemp products.
Invest in puzzle toys – Special toys such as Kong puzzles with hidden treats inside can be a fun way to distract your pet while you are gone and will keep them from releasing their anxiety through unwanted behaviors, such as chewing furniture, barking or having accidents in the house.
A Full Spectrum CBD Solution:
As the world's only full-spectrum hemp supplement with synergistic ingredients, RestoraPet Hemp helps unleash a pet's vitality, fighting discomfort and anxiety while offering proven health benefits from organic, plant-based ingredients, without any psychotropic side effects. RestoraPet Hemp was specially formulated to be given alongside the original RestoraPet formula for maximum efficacy, including improved/regulated appetite, greater pain reduction, lower anxiety, and a calm sense of wellness without sedation.
To learn more, visit http://www.restorapet.com.
About RestoraPet
RestoraPet® is the most effective line of pet supplements ever created. Made with the perfect blend of love and science, RestoraPet® restores wellness in older pets experiencing age-related decline and boosts the health and well-being of younger pets. First introduced to the market in 2014, RestoraPet® products are now used by tens of thousands of pets (especially dogs, cats, and horses) in more than 100 countries worldwide. RestoraPet® contains a remarkable, carbon-based "super antioxidant" that scientists created called Vitalitrol® and begins working from the very first administered dose to rehabilitate and protect almost every type of cell in a pet's body. Learn more at restorapet.com