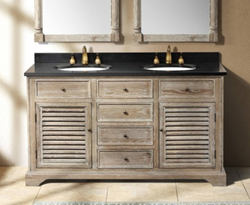 The visual appeal of restoration bathroom vanities lies in their natural, weathered wood construction and the simple quirks and flaws in their rustic finishes.
(PRWEB) August 25, 2014
HomeThangs.com – the Online Home Improvement Store has made their goal to deliver the right product to the consumer. With that in mind, shopping and home design tips as well as special product selections are being introduced.
HomeThangs.com has introduced a new line of restoration bathroom vanities. These vanities are designed to act as a bridge between traditional and contemporary styles, but with a slightly different twist than more conventional transitional bathroom vanities. Rather than simplifying and streamlining antique designs, restoration vanities are based on reclaimed versions of more recent antiques, with an emphasis on rustic, weathered wood and aged metal parts.
Restoration bathroom vanities combine the tactile simplicity of turn of the century American designs with just a hint of humble French country elegance. Where most traditional bathroom vanities place an emphasis on elaborate carved wood detailing, restoration bathroom vanities showcase a simpler style, like shaker cabinets, Cape Cod inspired shuttered cabinets, or even a simple, open shelf design, all done in elegantly weathered wood. It's the wood itself that's the real star of these vanities, rather than the elaborate wood detailing iconic of more traditional antique bathroom vanities.
As part of a larger trend towards using weathered, reclaimed wood in home design, restoration bathroom vanities almost always use wood with a natural, weathered finish, distinctive grain, and prominent texture. Where many antique and contemporary vanities are finished to a nice, glossy polish, restoration vanities are left more rough and rustic, which creates a much more natural and inviting appearance. That said, these vanities rarely use wood that's actually reclaimed, for much the same reason that real antiques aren't usually placed in the bathroom: they wouldn't hold up well to the fluctuating temperature and humidity of the bathroom.
Instead, most restoration bathroom vanities - like those produced by James Martin Furniture - are made from kiln dried wood that's intentionally weathered and very thoroughly sealed, rather than actual reclaimed wood. This produces a very similar final look, but ensures the vanity's longevity, and will prevent warping or splintering that are more common with naturally weathered wood.
That said, restoration bathroom vanities are designed to have the same unique depth of character of a genuinely reclaimed piece, and can be quite heavily weathered; small chips and scuffs, knots, and other inconsistencies in the wood give these vanities a down-to-earth, practical look and feel, which again makes them a bit better suited for a contemporary space.
Though the design of HomeThangs' new line of restoration vanities is quite subtle compared to traditional vanities as a whole, the use of aged wood gives them a sense of weight and history that most contemporary and even transitional vanities lack. While most transitional vanities are polished, streamlined cabinets that merely nod toward their historical inspirations, restoration bathroom vanities genuinely feel weathered and old. At the same time, though, they certainly aren't run-down or overly rugged; the simple, clean lines keep restoration bathroom vanities from feeling beat up, and instead make them feel natural and earthy, which meshes well with the trend toward spa-inspired bathroom spaces.
Restoration bathroom vanities also often feature unique or unusual hardware. While the hardware isn't conventionally antique in style, it tends to be similarly ornate and eye-catching, using aged reclaimed metal parts rather than traditional cabinet pulls to add a little flair to the design. While contemporary or even most transitional vanities err on the side of fairly minimalist hardware, the hardware used on restoration bathroom vanities is often the most ornate part of the design, and lends an antique air even to a relatively simple cabinet design.
For more information about HomeThangs.com's new collection of restoration bathroom vanities, check out the full article here.
HomeThangs.com is not only a home improvement superstore, it also provides expert design tips and a comprehensive shopping guide, taking the ideas from professional interior designers, and offering tips to the consumers on how to pick the products to best suit their needs.