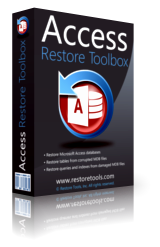 a specialized product that helps restore Access table structure and data in a few mouse clicks.
Sacramento, CA (PRWEB) January 28, 2014
Restore Toolbox, a company with a large and growing portfolio of powerful recovery tools and a reputation of a leading expert in the field of data analysis and recovery, proudly presents a major update for Access Restore Toolbox, a convenient MDB database recovery solution with an intuitive interface. http://www.access.restoretools.com/
The new version of the program takes advantage of a completely redesigned database analysis engine that offers improved speed, higher recovery efficiency and stability. The engine uses a combination of several proprietary algorithms to open, process and restore databases that its own previous versions and closest competitors could not cope with. http://www.restoretools.com/products.html
The software is intended for a very broad audience comprised of people of all skill levels – from beginners to seasoned IT professionals dealing with system crashes and data recovery on a regular basis. The program helps restore Access table data from MDB databases of all versions and with any degree of damage using a convenient and easy-to-follow recovery wizard. http://www.restoretools.com/download.html
The wizard consists of a series of simple steps that cover all stages of the process and enables the user to get from A to Z in the shortest time possible. The program can recover previously deleted or currently existing objects from damaged files and supports the recovery of all key elements of MS Access database files. Access Restore Toolbox comes with a database browser that makes it easier to assess the scope of the damage and mark specific items for recovery. http://www.restoretools.com/
"We are very excited about this release and have great expectations for Access Restore Toolbox," commented Team Lead at Restore Toolbox. "The new engine made a huge difference, so the program is now substantially more efficient. I hope that current and prospective customers will appreciate the work we've done to make this tool what it is today."