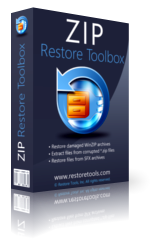 A compact, yet powerful and extremely efficient tool that helps users restore ZIP file contents.
Sacramento, CA (PRWEB) January 21, 2014
Restore Tools, a leading supplier of specialized data recovery tools for the mass market and a company known for its broad expertise in the data recovery field, is proud to present the completely revamped ZIP Restore Toolbox, the ultimate recovery tool that will restore ZIP file contents after the most serious and devastating data corruption incidents. http://www.zip.restoretools.com/
Based on an all-new recovery core, the program offers unprecedented efficiency, speed and quality of file recovery, regardless of the type of event that lead to data corruption. The program was created for non-professional users and therefore has a very intuitive wizard-driven interface that consists of a few quick steps and requires a bare minimum of user involvement. http://www.restoretools.com/
The program was developed to help users restore ZIP file data from files of any version, fix CRC errors and extract archived files and folders to a safe location in a few clicks. The program has modest system requirements and does not need additional components or libraries to operate, which makes it a good choice for older systems with multiple damaged ZIP archives. http://www.restoretools.com/products.html
ZIP Restore Toolbox comes with an integrated file browser that enables users to preview the structure of a damaged file and mark particular items for subsequent recovery. The overall simplicity of use and lack of special skill requirements make the program the optimal choice for users looking for a way to restore their data and yet keep it away from prying eyes.
"We are happy to present a brand-new version of ZIP Restore Toolbox, which is now better from every perspective," commented Managing Director of Restore Tools. "The new engine made recovery faster and a lot more accurate – let alone the fact that the program now restores files from archives that its own predecessor and competitors could not even open."
The free demo version of the program can be downloaded from the official site of Restore Tools. http://www.restoretools.com/download.html