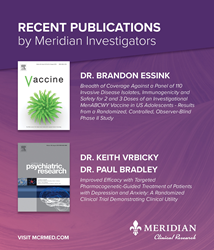 "This was a great outcome. We work on trials like these for years through numerous phases, so it's rewarding to see promising results in the clinic and know they could contribute to a better standard of care."-Dr. Brandon Essink
OMAHA, Neb., NORFOLK, Neb., and SAVANNAH, Ga. (PRWEB) August 16, 2018
Results from clinical trials performed at Meridian Clinical Research sites in Norfolk, Neb., Omaha, Neb., and Savannah, Ga., were recently published in two prestigious medical journals.
Dr. Brandon Essink, Meridian's medical director and principal investigator, co-authored an article published in Vaccine. Dr. Essink led a study at Meridian's Omaha, Neb., site as part of a successful clinical trial for a vaccine found to provide broad protection against meningococcal disease (meningitis).
"This was a great outcome," said Dr. Essink. "We work on trials like these for years through numerous phases, so it's rewarding to see promising results in the clinic and know they could contribute to a better standard of care."
Dr. Keith Vrbicky (Norfolk, Neb.) and Dr. Paul Bradley (Savannah, Ga.), Meridian principal investigators, also co-authored an article published in the Journal of Psychiatric Research earlier this year. The article included results from a clinical trial of a diagnostic test for patients with depression and/or anxiety. The test analyzes genetic material from an inner-cheek swab to help physicians determine which medications may be most beneficial for specific patients.
"This is an excellent step toward making personalized medicine commercially available," said Dr. Vrbicky, who is also Meridian's international medical director. "As therapies advance, so to should our understanding of how an individual's genes can affect their response to therapies. This is how we treat the person and not just the population with which they're associated."
Results from several other investigational product studies run by Meridian — including work on a smallpox vaccine and a hyperhidrosis product — have been presented at major academic and industry events in 2018.
"When we can provide evidence to help the academic community vet potential treatments, we can help pharmaceutical companies move products through the development pipeline faster," said Dr. Bradley. "Our principal investigators are heavily interested in the clinical trials they oversee and the larger research community, which is a major asset for pharmaceutical sponsors."
To learn more about Meridian's investigative site network and research capabilities, visit mcrmed.com/sponsors-and-cros.
About Meridian Clinical Research
Meridian Clinical Research partners with pharmaceutical and biotechnology companies to research new pharmaceutical drugs, medical devices, and diagnostics that could improve human health and wellbeing. Founded in 1999, Meridian is headquartered at a dedicated research center in Omaha, NE, and conducts Phase I-IV studies at 18 investigative sites across North America. Meridian supports research across numerous therapeutic areas and specializes in high-volume vaccine trials. For more information, visit mcrmed.com.
About the Study Co-Authored by Dr. Essink: Breadth of Coverage Against a Panel of 110 Invasive Disease Isolates, Immunogenicity and Safety for 2 and 3 Doses of an Investigational MenABCWY Vaccine in US Adolescents - Results from a Randomized, Controlled, Observer-Blind Phase II Study, Published in Vaccine, Volume 36, Issue 35, 23 August 2018, Pages 5309-5317
About the Study Co-Authored by Dr. Vrbicky and Dr. Bradley: Improved Efficacy with Targeted Pharmacogenetic-Guided Treatment of Patients with Depression and Anxiety: A Randomized Clinical Trial Demonstrating Clinical Utility, Published in the Journal of Psychiatirc Research, Volume 96, January 2018, Pages 100-107