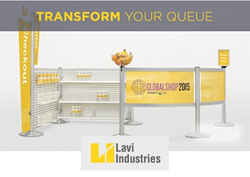 Our goal is to inspire retailers to take their in-store experience to the next level by maximizing impulse sales in the queue and delivering an exceptional customer experience
Las Vegas, NV (PRWEB) March 19, 2015
Lavi Industries, a leader in retail merchandising fixtures and queue management solutions, will showcase its new Qtrac iQ queue analytics technology and NeXtrac merchandising system at GlobalShop 2015, the world's largest annual event for retail design and shopper marketing.
GlobalShop takes place March 24-26, 2015 at Mandalay Bay Hotel in Las Vegas, NV. Lavi will exhibit as part of the Store Fixturing Show within GlobalShop at booth #1543.
"We look forward to demonstrating the tremendous synergies between our latest queuing technology and our NeXtrac merchandising fixtures to retailers this year," said Perry Kuklin, Director of Marketing and Business Development for Lavi Industries. "Our goal is to inspire retailers to take their in-store experience to the next level by maximizing impulse sales in the queue and delivering an exceptional customer experience," he added.
At the Lavi Industries booth, GlobalShop attendees can explore the following products and solutions:
Qtrac iQ Queue Analytics Technology
Lavi's Qtrac iQ intelligent queue management system lets retailers manage the customer experience with real-time data and analytics. Featuring an inconspicuous sensor embedded right into a Beltrac® queuing stanchion, Qtrac iQ counts customers as they enter, move through, and exit the queue. Dashboards and alerts help managers predict backups and optimize service point utilization. Learn more about Qtrac iQ intelligent queue management.
Qtrac iQ Impulse Merchandising Analytics
Using Qtrac iQ's powerful sensor technology, in-queue merchandising sales are combined with impression and dwell-time data, offering web-style analytics and reports for front-end merchandise programs. Real-time queue data helps retailers optimize their in-queue merchandising plan to maximize profits. Learn more about QtraciQ impulse merchandising analytics.
NeXtrac In-Queue Merchandising & Store Fixtures
NeXtrac retail store fixtures have a very small footprint and feature double-sided merchandising panels to leverage retail space and maximize sales per square foot. The NeXtrac system is flexible, allowing retailers to instantly turn a Beltrac stanchion or a Qtrac iQ Smart Post™ into a powerful merchandising system. At GlobalShop, Lavi will showcase new additions to the NeXtrac product line, including real wood and wood-printed aluminum slatwall panels. Learn more about NeXtrac merchandising systems.
In addition to these solutions, Lavi Industries offers a wide range of queue management products to serve many of the nation's largest retailers.
GlobalShop attendees are encouraged to visit Lavi Industries at booth #1543.
About Lavi Industries
Based in Valencia, California, Lavi Industries is the premier provider of public guidance, crowd control solutions, and queue management systems in North America. Leveraging its portfolio of world-class brands – Beltrac® stanchions, Directrac® signage systems, Qtrac® electronic queuing systems, and NeXtrac® in-line merchandising systems – Lavi has helped the world's leading companies effectively guide people in, through, and out of their facilities. More information is available at http://www.lavi.com.