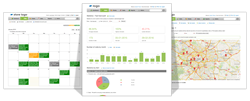 Toronto, ON (PRWEB) September 01, 2016
When retailers adopt purpose-built store audit software, and get the ability to audit stores for compliance with service, merchandising and loss-prevention standards, they immediately report time and cost savings.
Excel and email-based "in-house" solutions and generic, feature-poor "data collection" solutions are known to be inefficient. Using the wrong tool deprives the retailer of the means to deploy and manage in-store programs and the analytics it needs to make informed business decisions.
Until now, Compliantia, the leading retail-audit software vendor, was a "go-forward" solution only. A retailer would reap the benefits of the software, from the day it was deployed, going forward. Starting today, Compliantia allows customers to upload thousands of store audits previously conducted with third-party services, legacy software and in-house solutions. So when a retailer upgrades its store audit solution to Compliantia, the full visit history is immediately available. This provides business and operational continuity and allows the retailer to mine the data it already has.
"Self-serve and advanced import-export capabilities are core principles of the Compliantia platform. We are pleased to drive these principles even further and allow customers to upgrade their current in-store data collection program to the world's most powerful store audit platform," says Fabien Tiburce, CEO of Compliantia.
About Compliantia
Compliantia is cloud software for in-store execution, including store audits, task management and ticket tracking. Compliantia helps retailers audit stores for operations, merchandising and loss-prevention standards with an app running on a smartphone, tablet or laptop.
For more information, visit http://compliantia.com or call Sales & General Information at 1-800-351-8507 Ext. 101 (North-America).
###