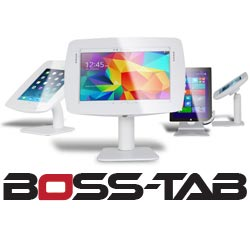 The 'bricks & mortar' retail sector is in a state of change and under more pressure than ever to compete against other local retailers and online stores
Chicago, Illinois (PRWEB) April 14, 2016
BOSS-Tab, Australia's foremost distributor of tablet kiosk enclosures for businesses, recently launched operations in North America with the opening of their first warehouse in Chicago. Company officials said they have had North America in their sights for a while.
"We've been anticipating this for a couple of years now," said BOSS-Tab spokeswoman Elizabeth Nelson. "Now is the perfect time to expand. Our business in Australia continues to grow and we could not get our North American operations up and running soon enough."
BOSS-Tab has been selling tablet enclosures in Australia for 15 years and will initially offer the Fusion line to the North American market.
Tablet kiosk enclosures make a tablet accessible to customers while keeping the device secure. Businesses use them both inside and outside their stores.
Outside, they are used to engage customers who might otherwise pass a store by, with customers being offered coupons or other incentives for going inside. Once inside, customers use tablets to place orders or check their reward program points, or check inventory in other stores.
"Brick and mortar retailers are under more and more pressure every day," Nelson said. "Not only against other retailers, but against their online presence as well. A tablet kiosk gives customers the best of both worlds. Customers have endless choices now and an in-store kiosk gives customers the options they have become accustomed to."
Businesses with tablet kiosks are also seeing an improvement in their marketing efforts, as the kiosk serves as an excellent collection point of customer data. This makes targeting customers with offers tailored for them easier.
Nelson added that customers aren't the only ones being engaged by in-store tablets.
"Husbands have been known to use a store's tablets to go online and follow a ballgame or check their email while their wife shops," Nelson said. "This means husbands aren't bothering their wives to leave. This keeps the shopper in the store longer, making them more likely either to buy something or spend more."
The Fusion line comes in three models; table stands, floor stands, and wall mounted units, and has enclosures for the Samsung Galaxy, the iPad, and Microsoft Surface tablets.
One industry where the use of tablet stands is growing is the hospitality industry, with hotels worldwide now using them to improve their guests' experiences, from easing check-in procedures to making their in-room experience easier and even fun.
"BOSS-Tab enclosures are ideal for independent customer use," Nelson said. "Australia's finest hotels know our enclosures keep their tablets safe, allowing guests to use them for everything from adjusting the temperature to acting as an in-room concierge."
As consumers become more and more sophisticated, their expectations are rising, too, with surveys showing an increasing percentage of customers expecting their in-store and online shopping to interact. For example, more and more customers are expecting to see online inventory in-store, and to be able to pick up online orders at brick and mortar locations. These changing expectations are giving retailers an unprecedented opportunity to adapt and give their customers what they expect.
"There is a tablet kiosk enclosure model for everyone," Nelson said. "They instantly turn unused floor and wall space into another way to engage new customers and keep old ones, and build sales."
BOSS-Tab.com is a premium online retailer of easy, secure, and affordable touch point solutions for retailers. They offer enclosure stands, tablet holders, and iPad wall mounts for retail and exhibition functions. Founded in Australia, they opened their first North American warehouse in 4Q 2015. Reseller opportunities are available.
Contact
sales(at)bosstab(dot)com