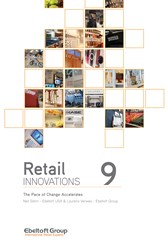 Retail Innovations 9 presents a synthesis of the most meaningful innovation trends and showcases those outstanding retail innovation cases.
Chicago, IL (PRWEB) November 14, 2013
This year's edition of Retail Innovations 9 distinguishes US-based eyewear retailer Warby Parker with the Ebeltoft Retail Innovation Award. The disruptive retailer is recognized as the innovation of the year for circumventing traditional industry channels and engaging with customers directly through their website to create a unique prescription eyewear offering at a fraction of the price. The company's classic, high-quality eyewear products, coupled with its customer-centric strategy and a socially conscious business model, has garnered Warby Parker a huge following.
Ebeltoft Group is a global network of retail experts that has been formally tracking developments of retailers who are truly innovating throughout the industry for nearly a decade. Their latest publication, Retail Innovations 9, highlights the best in class retailers who have created unique opportunities, customer experiences, and new business models over the year. These cutting edge retailers are responding to the most game-changing trends in the world of retail to create significant and noteworthy new store concepts.
The 9th edition of Retail Innovations showcases 54 of the best innovation cases from 23 countries and pinpoints the 9 global innovation trends, such as:

Customization—customers are involved in the design of products that are uniquely their own, across a broad range of categories;
Crowdsourcing—customers can now play an active role in the creation of assortment through user-submitted ideas and voting polls;
Hyperlocal—accentuates the power of being local. Sourcing products directly from the community to support the community and deliver the best to consumers.
This year's innovation cases span the globe with concepts ranging from Coop.fi (Italy), Chilli Beans (Brazil), FabIndia (India), Hointer (US), Marks & Spencer (Netherlands) and many more.
Interested in a copy of Retail Innovations 9? Please contact Ebeltoft Group.