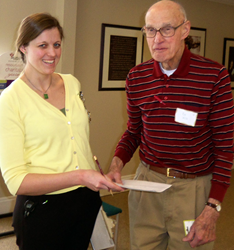 Many raved about how their balance and self-awareness improved during the course of the series.
CINCINNATI (PRWEB) March 14, 2014
Llanfair, a premier continuing care retirement community serving southwest Ohio, recently concluded a fall-prevention education series called Vertical: Movement and Muscle.
Vertical: Movement and Muscle was held on the Llanfair campus, 1701 Llanfair Ave., for residents as well as older adults living in the greater Cincinnati area.
The interactive program was designed by Masterpiece Living® and facilitated by R. Edward Stinson, Llanfair's director of education and a certified Matter of Balance coach.
Participants learn how to be more confident in relation to balance and how to watch for fall hazards. Vertical also includes an assessment of their home and personal risk factors. At the end of the four sessions, participants created their personalized fall-prevention plan.
Vertical is a research-based, multidimensional program unlike other fall-prevention courses because it covers so many factors often associated with falls, including medications, vision, education, environment, exercise and current health conditions.
More than half of the 70 participants came in from the greater community. The four-part series was free and open to the public.
"Many raved about how their balance and self-awareness improved during the course of the series," Stinson said. "The data we collected from participants showed significant improvement in all areas with the most significant being their confidence in becoming more mobile and being more likely to attend social events. The data also showed an improvement in participants' confidence in decreasing their chances of falling."
Llanfair always has a full calendar of interesting, interactive adventures that are open to the public, and many of them are free to attend. For details, call 513.681.4230 or visit our website at http://www.llanfairohio.org.
About Llanfair
Llanfair Retirement Community is one of 11 retirement communities owned and operated by OPRS Communities, a wholly owned subsidiary of Ohio Presbyterian Retirement Services (OPRS), headquartered in Columbus. Since 1922, OPRS has defined the highest standards of quality of life for older adults. Each year, OPRS serves more than 73,000 people annually through its wholly owned subsidiaries OPRS Communities and Senior Independence Home Health & Hospice.