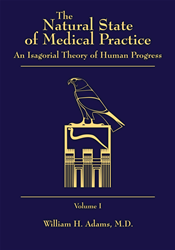 Progress is attributable solely to individual and group freedom
HOBART, N.Y. (PRWEB) August 23, 2019
Which world civilizations have had the greatest impact on modern medicine? Do government and resulting policies affect the growth of medicine and medical discoveries? Dr. William H. Adams addresses these questions in the first of a three-part series, The Natural State of Medical Practice, Volume 1: An Isagorial Theory of Human Progress ($73.49, hardback, 9781545665510; $56.99, paperback, 9781545665503; $9.99, e-book, 9781545665527).
Adams explains how government has either encouraged or discouraged medical progress from ancient civilizations such as Mesopotamia and Egypt to the modern, western world.
"This volume reveals that, of all the great civilizations, only ancient Greece and the West since the 18th C have been capable of medical progress. Progress is attributable solely to individual and group freedom," said Adams.
William H. Adams, M.D. earned his medical degree from Ohio State University. He is currently a Fellow of the American College of Physicians, and holds a post-graduate diploma in clinical medicine of the tropics (London). He retired after forty years of medical practice and is also the author of The Natural State of Medical Practice: Hippocratic Evidence and The Natural State of Medical Practice: Escape from Egalitarianism.
Liberty Hill Publishing is a division of Salem Media Group, America's leading radio broadcaster, Internet content provider, and magazine and book publisher targeting audiences interested in Christian and family-themed content and conservative values. The Natural State of Medical Practice, Volume 1 is available online through amazon.com and bn.com.