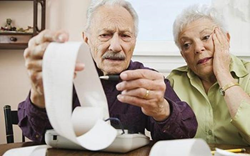 Many retirees fail to appreciate the inherent cost of retirement.
London, UK (PRWEB UK) 28 April 2014
According to a recent Liverpool Victoria article the average sexagenarian annually earns £25,480 and now, many retirees aged 60+ are unwittingly approaching retirement with a regular pension-sourced income of just £8,774, approximately 34% of the funds to which they've become accustomed.
Many pensioners will struggle to cope with the state of their financial affairs, which will see them surviving on just a quarter of the national minimum wage. Industry fears are now focused on the possible affordability implications of the alluring 100% pension drawdown option now presented.
The possibility of our retirement income running out before our budgeting dictates is a realistic concern for each and every one of us, something that's perhaps reflected by the fact that 30% of British employees aged 60+ have amended their plans for retirement since April 2013.
With 70% of retirees evidently facing an impoverished retirement dependent on their weekly £110 state pension payments, it's hardly surprising to learn that an escalating number of people are investigating the benefits of professional asset management and private investment banking.
International pension planning often proves to be a popular choice amongst those looking to alleviate the financial pressure forced upon them during retirement and a key reason for the increased uptake of private pensions is that many face the prospect of having to work for far longer.
David Retikin, Director of Operations at leading investment specialists Pryce Warner International Group offered further insight into modern-day retirement:
"Many retirees fail to appreciate the inherent cost of retirement that the Chancellor's new user-friendly pension regime has upheld and yes, the new system is more flexible, but people are mistaking this as more efficient or economical. British pensioners both inland and offshore can maximise the performance of their savings & investments by employing the professional asset management services of a reputable and reliable, independent financial advisor."
Without private investment banking, many pensioners will be left to wonder how their income could possibly cover their everyday expenses, before they've had a chance to consider regular outgoings including overheads such as rent, mortgages, heating and food… and what of any outstanding debts?
58% of people planning to retire before 2019 think their expenses will level out or increase. With 12% of retirees having an outstanding balance on their credit card and 7% with a mortgage to pay off, perhaps the 5% who have an existing overdraft to worry about should count themselves lucky.
Those hoping to embrace retirement without having to work well into their early seventies should seriously consider their options. Although it can be costly, financial advice is predominantly cost-effective and it can make a world of difference to the daily cost of living during retirement.
Those taking the time to learn more about tax-friendly solutions to their situation soon appreciate the true value of what can be achieved with very little effort. A host of investment advice is openly available online, but speaking personally with a finance professional is highly recommended.