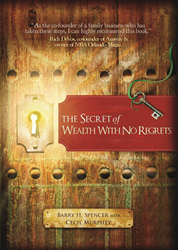 Rich DeVos, Co-Founder of Amway, On Forbes-500 List, Owner of NBA Orlando Magic says, "I can highly recommend Barry Spencer's book. Too few wealth people ask the bigger questions."
Atlanta, Georgia (PRWEB) February 06, 2015
Retirement planning and tax reduction specialists, Barry H Spencer and Scott Noble, surveyed recent retirees and future retirees about their retirement preparations and biggest concerns. At their special briefing on February 25 and 26, they will reveal the five wealth and retirement income destroyers and tax traps that can cut a retirement income in half.
An overwhelming number of retirees and soon-to-be retirees are unaware that they are not on track to enjoy the retirement they dreamed about. Too many follow the advice easily found from financial newsletters and TV "experts" who pontificate on outdated strategies that no longer work.
Through detailed analysis of current retirement plans of those millionaire couples researched it was found they were not accessing retirement tax reduction opportunities that could in many cases double their retirement income.
A top concern shared about retirement was the very likely continued increase in taxes that will add financial pressure to the hard-earned money set aside to live on in retirement.
In addition to rising taxes on income, capital gains, dividends and estate taxes there is concern about: personal health, future costs of healthcare, long-term care expenses, and the rising cost of living.
These uncertainties and concerns remain for even those who consider themselves prepared or very prepared for retirement and especially those who have recently retired. These concerns exist even among those who believed they had done extensive financial and estate planning.
Millionaire retirees are experiencing even greater confusion about how to have a secure lifestyle in retirement. While working the source of retirement paycheck seemed simple, but once they near retirement many find it more complex and confusing.
One nationally known financial "expert" on retirement admitted that "my advise is grossly inadequate and missing answers to the critical questions that make retirement work now that I am personally preparing for my own retirement."
As the current generation searches for answers, there is a growing recognition that answers are difficult to find amidst the mountains of information available, and few are finding adequate answers.
An even bigger problem for retirees looking for answers is that the answers are being masked by a financial industry that speaks in financial lingo that sounds like a foreign language.
"To access the strategies and tools that can create more money to spend in retirement, retirees' need clear simple answers to their real-world questions in easy to understand language which allows them to have more control of their present reality and future possibilities", says Barry Spencer, creator of The Wealth With No Regrets a Registered Trademarked Process.
Spencer goes on to say, "The secret to making retirement work better is less focus on the financial dimension of retirement and more focus on the personal and social dimensions of retirement." This three-dimensional approach to planning is explained in their February 25 and 26 special briefing.
Traditional planning methods such as financial planning and estate planning are coming up short for most retirees leaving them to wonder if they have done all they can to preserve and protect the hard-earned dollars they've set aside for retirement.
Current and future retirees' who are frustrated with the lack of answers from the financial and estate planning industry in too large of numbers are settling for do-it-yourself planning but with disappointing results.
In his book, "The Secret of Wealth With No Regrets", Spencer provides his unique and unfortunate experience with a traditional financial estate plan that didn't work out as his father hoped. It's a real-world perspective on the pitfalls and dangers of not accessing the strategies available to protect and preserve wealth.
Rick DeVos, Co-Founder of Amway, on Forbes-500 List and owner of the NBA Orlando Magic says, "Too few wealthy people ask the bigger question. I can highly recommend Barry Spencer's book."
Barry Spencer and Scott Noble have designed a special briefing that reveals how to access the best tax and retirement planning strategies available that can be used to potentially increase spendable money in retirement.
On Wednesday and Thursday, February 25th and 26th at two convenient times on each day in the afternoon or evening, Spencer and Noble are providing a live special briefing for those preparing for retirement and recently retired. Attendees of this special briefing will learn a trusted approach to access little-known proven strategies to potentially increase the money available to spend in retirement, secure substantial income tax deductions, how to reduce and even eliminate income taxes on an IRA, and avoid the five wealth predators that steal away a freedom lifestyle for themselves and their family.
There are limited seats available for the February 25th and 26th special briefing at 11:30 a.m. to 1:00 p.m. or 5:00 p.m. to 6:30 p.m. The briefing on both days is held at The Marriott Hotel on Windward Parkway in Alpharetta, Georgia located at GA 400, Exit 11. To find out more visit http://www.SpecialBriefing.com. Interested inquires can also call to register at 678-278-9632 or email barry(at)specialbriefing(dot)com
About: Barry H. Spencer is a nationally recognized Author, Financial Speaker, Planned Giving Consultant, Entrepreneur and Wealth Planning Strategist. Spencer has been heard on WAFS biz1190 and 680 WCBM and books include, The Secret of Wealth With No Regrets, Giving Transforms You!, and The Serving Leader.
About: Scott M. Noble, CPA/PFS, is a Dave Ramsey Certified Financial Coach, nationally recognized Speaker, Continuing Education Instructor, and Retirement Planning Strategist who also gives educational presentations in the financial industry, to companies, nonprofits, and churches on shoring up money in the short-term for the bigger payoff in the long-term.