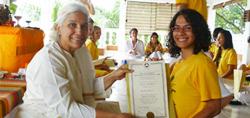 I learned meditation over 30 years ago and have practiced on and off over that time period. The depth to which this meditation course has outlined the many key elements of successful meditation simply astounds me.
Medellin, Colombia (PRWEB) July 05, 2013
To achieve lasting happiness and absolute peace, we must first know how to calm the mind, to focus, and eventually to transcend the mind. By turning the mind inward, we can deepen our concentration and attain a state of meditation. Learn about the nature of the mind and how to develop concentration and inner stability. Be guided in basic meditation techniques and get inspired to establish a daily meditation practice.
Topics of this Yoga course include:

What is meditation and why should a student meditate.
The yogic lifestyle
The three gunas
The four paths of Yoga
Theory of concentration. The pleasure and mind. The five states of the mind.
The power of words and mantras.
Sound as the source of all energy and matter
"Swami Sivananda of Rishikesh taught Yoga-Vedanta, which came to the West through his many disciples like Satchidananda, Vishnudevananda, Ventakeshananda and Jyotirmayananda. The Sivananda Yoga -Vedanta centers founded by Swami Vishnudevananda teach regular programs on Yoga-Vedanta and with references to Ayurveda as well. I have done many programs with this organization and find it to be the best Yoga training group in the west." -Dr. David Frawley
The program will be presented by senior staff of the international Sivananda organization. For more information, please visit http://www.sivananda.org.uy.