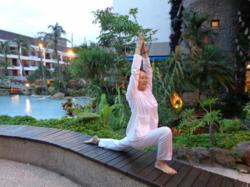 The Yoga and health retreat was a life changing experience. Don't miss out on this opportunity.
Bogota, Colombia (PRWEB) July 09, 2013
The Yoga and Health retreat will be offered July 22-25, 2013 in La Pintada, Colombia.
In this course, participants will embark on a journey into the practice of yoga and health in the ideal setting of a Yoga Retreat. This course follows the Five Points of Yoga created by Swami Vishnudevananda for health and inner peace: proper exercise, proper breathing, proper relaxation, proper diet, and positive thinking and meditation. The Yoga course includes the study and practice of the benefits for physical and mental health of the practice of yoga and vegetarian food.
The Sivananda Yoga and Vedanta Centres, founded by Swami Vishnu-Devananda, is offering Yoga retreats (retiros de Yoga Colombia) in Colombia in July 2013. The program takes place in a calm environment, allowing visitors to enjoy the benefits of Yoga, meditation, breathing exercises, and healthy vegetarian food (see Yoga Colombia).
"The retreat environment is conducive to rapid progress in regaining health, energy, and peace of mind through relaxation, rejuvenation, diet and exercise, breath work, study, and positive thinking. Some of the benefits visitors to the Yoga Farm report include greater mind-body awareness, heightened sensory perception, greater sense of purpose, improved attitude, stronger resistance to stress, improved efficiency at work, and better relationships."
Kanti Devi (Yoga Acharya), is Director of the Sivananda Centers in Montevideo and Buenos Aires. She has organized the International Sivananda Yoga Teacher Training courses in South America since the 70s. Direct disciple of Swami Vishnudevananda, she is known for her charisma and dedication.
For more information about Yoga Colombia, please visit sivananda.org.ar.