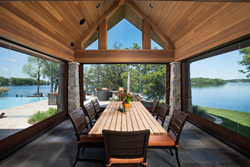 "What I love about using clear vinyl with our screens is how much it transforms your home and how you live," said C. Esther De Wolde, CEO of Phantom Screens.
Abbotsford, B.C. (PRWEB) June 16, 2016
Phantom Screens, the leading manufacturer of retractable screens in North America, is excited to launch Phantom motorized screens with clear vinyl, further extending customers experience to include scenic views and temperature controlled environments.
Homeowners can now spend more time outdoors without limiting themselves to only two seasons, thanks to the company's motorized screens with clear vinyl panels. They are the perfect option to protect customers' patio from the elements such as rain, snow and wind. In addition, when the screens are extended they can retain the cool air circulating from the home during hot summer days, or warmth from space heaters on the porch or patio during cool fall evenings. The clear vinyl option is great for both residential and commercial projects and has the option to integrate motorized screens featuring mesh fabrics by stacking rollers and enhancing natural ventilation when needed.
"What I love about using clear vinyl with our screens is how much it transforms your home and how you live," said C. Esther De Wolde, CEO of Phantom Screens. "On a covered porch, for example, vinyl screens make the difference between using it a few days a year – to using it all year round. You create an extra room in your house that feels like being outside – even though you have all the comforts of being inside!"
Clear vinyl is now available on select motorized screens through its authorized distribution network and comes in 4 distinct colors including black, sand, white and brown.
Media Contact:
Sierra Gordon
Phantom Screens Marketing Communications Specialist
604-855-3654 Ext: 309
sgordon(at)phantomscreens.com
http://www.phantomscreens.com/