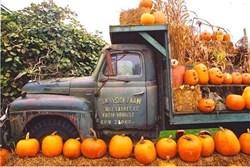 We Follow the Sun...
Vancouver, BC (PRWEB) July 31, 2013
This is a unique "Farm to Table Retreat" at the Brew Creek Lodge just 20 minutes south of Whistler taking place October 8th - 11th, 2013 for a three or four night stay.
http://www.thebrewcreekcentre.com/
There is also a Thanksgiving weekend special package offered as an "Add on" for two to three nights at the stunning Nita Lake Lodge right in Whistler. The legendary annual "Whistler Turkey Sale" and a wonderful "Fall Harvest Farmers Market" are just a few of the exciting events taking place that weekend.
During the three-day event at Brew Creek, Tournesol Retreats guides visitors to some of the hidden gems that take guests to a variety of venues featuring organic, gourmet and locally sourced food and spirits. Retreat guests will visit local farms and breweries, take in the magic of a stunning waterfall, drop in for a visit to a luxurious spa and end the day with a Sunset kayak and dinner event at the spectacular lakeside "Edgewater Resort".
There are many delectable treasures along this corridor including Pemberton's "North Arm Farm". They can pet the pigs, taste some amazing fresh berry pies at the Pony Bakery and experience a truly local adventure!
There is a "taste exploring adventure" of Whistler Brewery's custom crafted "Maple Chai" and "Pineapple ale." Pairing these tasty beverages with a four course summer barbeque menu and class led by our Culinary guide and chef Pola Schacter Ley, will help guests celebrate the very best of summer!
The Fall Harvest Retreat offers a full package including accommodations at Brew Creek,( 3-4 nights) and for those who would like stay longer at Nita Lake Lodge in Whistler Creekside, we have secured a fabulous price to extend their stay 2 or 3 more nights, starting at 139. per night for a studio. This allows guests to take in a host of fun and foodie focused Thanksgiving activities taking place all weekend long.
The early bird package rate starts at $375 pp per day and this is a special promotional price for our first event being offered in the Whistler. It's exceptional value as it includes all meals, wine, beer and spirit tastings, four cooking demonstrations, along with fun outdoor activities, some spa time, farm and waterfall tours, a sunset kayak and dinner party at the legendary Edgewater Resort, as well as taxes, gratuities and more.
There are only 20 spots available for this custom Culinary tour.