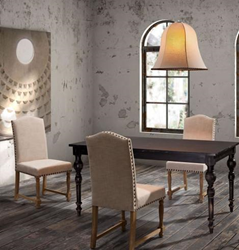 Iconic, turn-of-the-century mass produced chairs are a popular choice, not the least because they've been manufactured steadily for more than a hundred years, and are equally easy to find brand new or second hand.
(PRWEB) November 19, 2014
HomeThangs.com – the Online Home Improvement Store has made their goal to deliver the right product to the consumer. With that in mind, shopping and home design tips, as well as special product selections are being introduced.
In the past few years there's been a huge resurgence of many retro dining chair styles. Everything from midcentury seats all the way back to turn of the century antiques are seeing new life in contemporary formal dining rooms. These classic chairs are both comfortable and stylish, combining a very simple, earthy design with an old fashioned sense of elegance that's perfect for a more relaxed formal dining space. HomeThangs.com has introduced a guide to a few of the most popular chair styles.
Some of the earliest mass produced chairs, like the No. 14 chair or the iconic cross-backed chair, are at the forefront of this trend, largely because they combine a natural wood finish with simple, elegantly curved shapes. These chairs have a slightly rustic, homey look and feel, and avoid the hard edges and sharp lines of a more contemporary style. Midcentury wishbone chairs offer a similarly soft look, with a curved back and tapered legs that offer a subtle, designer elegance, paired with a very simple wood finish.
HomeThangs.com's new guide also looks at a few of the more distinctive retro dining chairs that are making a comeback. Warehouse inspired factory chairs have seen a huge resurgence in step with the rising popularity of an industrial style decor. These combine repurposed metal parts with reclaimed wood for a look that emphasizes functionality rather than elegance. Some of the more unusual styles can feel a bit whimsical, but largely this style is meant to create the practical, functional look that's so closely associated with an industrial style.
On the more formal end of the spectrum, nailhead upholstered chairs are also seeing some renewed popularity, particularly when paired with a light off-white linen or canvas colored upholstery and unfinished wood legs. As with the other chairs on this list, these Parsons-style chairs are meant to combine a sense of classic sophistication with a more contemporary sense of functionality, but they tend to have a much more finished look than traditional wood chairs. Upholstered chairs can easily be used on their own or coupled with some of the other chairs on this list to add a slightly more polished look to this otherwise fairly rustic, homey style.
To find out more about these unique chairs, check out the full guide here.
HomeThangs.com is not only a home improvement superstore, it also provides expert design tips and a comprehensive shopping guide, taking the ideas from professional interior designers, and offering tips to the consumers on how to pick the products to best suit their needs.