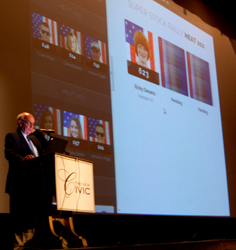 I built and raced derbies in Akron as a child and recently traveled the country racing derbies with my children who have each raced in the Akron championship race three times, (Jeff Boothe, Co-Founder of reUrgency)
Akron, Ohio (PRWEB) August 01, 2013
reUrgency, a Lakeland, Florida-based software development company specializing in mobile apps and solutions, launched an innovative mobile app that allowed All-American Soap Box Derby participants and enthusiasts to connect, follow and interact with the event, which was held July 21-28, 2013 at Derby Downs in Akron, OH.
As a way to extend the excitement of the race event into the mobile arena, reUrgency partnered with event sponsor FirstEnergy to release the official "RaceTracker" Mobile app for the All-American Soap Box Derby—an annual community development and educational event.
FirstEnergy, an Ohio-based diversified energy company with the largest investor-owned electric system, sponsored the weeklong competition, where kids 8-17 years of age race kit-built derby cars down a 933-foot hill powered only by gravity. Other events included a 5K Run/Walk and Open Track Event where families came out to compete for scholarships and prizes.
By teaming up with FirstEnergy, reUrgency has infused software technology in many areas of the championship week including the Heat & Lane Draw event that once used ping pong balls for random seeding, now used reUrgency's slot-machine-like application that spins and lands on random drivers.
During race day, the heats were scored at the finish line with reUrgency software, which was fed to the RaceTracker Mobile app and RaceTracker Desktop in real-time. The desktop version is an enhanced benefit to event fans, where they can follow the All-American Soap Box Derby and keep track of its drivers' progress, watch live video stream, even if they cannot attend the event.
Participants and fans attending the event enjoyed the RaceTracker Mobile app as it allowed the tracking of heats, fastest times and favorite drivers in a variety of mobile devices—including iPhone, iPad, and Android phones and tablets—and offers the following features:

View over 400 drivers in nine race divisions
Save favorite drivers, as well as track driver status and heat results
View the 10 fastest times of the day per division
Post your favorite drivers and heats to your Facebook wall
Receive notifications when one of your favorite drivers completes a heat
Access to the week's race news and schedule
Once installed on a mobile device, the RaceTracker Mobile app can be set to vibrate and display a notification whenever a favorite driver completes a heat, ensuring that no one misses a moment of excitement throughout the week.
In addition, the RaceTracker Mobile app was used by race fans to post their favorite drivers and heat results to Facebook—further extending the excitement to increase awareness for the event by way of social media sharing.
"I built and raced derbies in Akron as a child and recently traveled the country racing derbies with my children who have each raced in the Akron championship race three times," said Jeff Boothe, Co-Founder of reUrgency. "It feels great to contribute technology to such a storied American tradition."
As a cutting-edge software developer, reUrgency works with a wide variety of organizations to develop solutions that reap the benefits of current mobile technologies, meeting the needs of the markets and industries they serve—as well as collaborating with strategic partners like FirstEnergy and other event sponsors.
The All-American Soap Box Derby app can be downloaded from the Android Google Play store or the Apple App Store—and it is also available for desktop computers at http://www.aaRaceWeek.com.
The official website of the All-American Soap Box Derby is http://www.aasbd.org.
About reUrgency
reUrgency is a team of professionals with expertise in web application development, user experience, and design. The diversity of the team's collective expertise has produced a wide range of superior software solutions for customers in diverse industries. reUrgency lives by the tenet of making customer satisfaction paramount to anything else we could achieve. The company's website is http://www.reUrgency.com.
Media Contact:
Jeff Boothe, Co-founder
Email: jeff.boothe(at)reurgency(dot)com
Phone: 863.944.1408