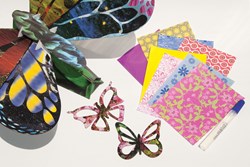 New York, New York (PRWEB) September 23, 2013
Eco-friendly toy company, Urban Canvas, has recently enhanced its original sculptural art kits to include art materials that will enable children to fully decorate and build a sculpture with artistic flair. These complete art kits are ideal for busy parents who are looking for engaging creative experiences for their children and fun unique gifts for their children's friends.
The newly revamped Urban Canvas Metropolis Train Set comes with two train cars and now also includes four passengers, stencils and crayons. The train set doubles as a fun toy and an inspiring art activity for young boys. Also revamped is Urban Canvas' Spring Butterfly which now has the added feature of a coin bank at the base of the butterfly and includes stencils, stylized collage paper and glue. With the Spring Butterfly, young girls will not only have a beautiful original sculpture that they can display, but they will also have a practical coin bank that they can use to save their money.
About Urban Canvas:
Urban Canvas is committed to preserving the environment and developing arts and crafts toys that stimulate artistic growth in children. Urban Canvas toys are three-dimensional sculptural canvases for children to build, decorate, play and display. Urban Canvas promotes recycling, reducing landfill waste and increasing the overall health of the planet for our children.