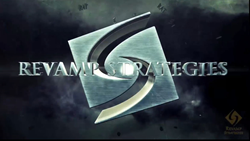 We are not going to name drop, but don't worry, you'll see them soon enough.
Atlanta, GA (PRWEB) May 30, 2014
Revamp Strategies is an Online Marketing Company located in Atlanta, GA. They specialize in Web Design, Social Media marketing, Video Creation & Video Marketing, Search Engine Optimization and Paid Advertising.
This month, Charles E. Anderson, Chief Operating Officer states, "We are very excited about our newest clients. One is a local real estate agent here in Atlanta, GA, another is developing their own clothing line and last, but not least, is a National Real Estate Investing Instructor."
Revamp Strategies offers exclusive contracts to each of their clients. This means that Revamp Strategies will no longer be accepting clients in the Real Estate niche in Atlanta. Charles says, "It would be a conflict of interest for us to accept multiple clients within the same niche in the same location. However, we are still accepting clients in other niches. So, if you are a small to medium size company, just give us a call and we will be more than happy to discuss if and how we maybe of service."
Revamp Strategies is a small but growing marketing company located in Atlanta, GA. They provide services nation wide to nearly every kind of business. Luci Anderson, Chief Executive Officer of Revamp Strategies says "Many companies don't know how the internet can help their business, that's where we come in. We analyze your business and competition to create a marketing plan customized for you."
Revamp Strategies does not have a "one price fits all" pricing structure. Charles says "Each business is unique and requires a unique marketing plan."
So, who are these new clients? Charles replied, "we are not going to name drop, but don't worry, you'll see them soon enough." Well played Charles... Well played...
To find out more about Revamp Strategies, just Google them, they are easily found.