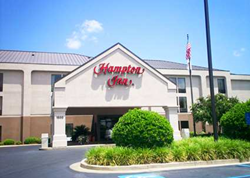 Revcaster's pricing tools give our GMs clear visibility into their markets to be better informed managers.
PORTLAND, OR (PRWEB) November 11, 2014
Premier Hotel Corporation is a property management consultancy that enhances profitability through increased revenue and efficiency for its hotels. Premier serves both branded properties and independents. A year ago, Premier increased its focus on maximizing revenue for its hotels through a cost-effective, automated comp-set pricing data solution. In mid-2013 the company implemented pricing services from a solutions provider called Revcaster that enabled its properties to set rates more intelligently. Premier leverages Revcaster's market-specific comp-set pricing to provide revenue generating benefits through near real-time competitive data.
Hampton Inn's GRO automatically updated with Revcaster pricing data
"Revcaster's pricing tools give our GMs clear visibility into their markets to be better informed managers," said Nigel P. Duffett, CHA, vice president of marketing and operations and owners' advocate for Premier Hotel Corporation, which has operated Hilton, Wyndham, IHG and Marriott brands, and independent properties. "Revcaster reports enable our properties to see what their comp-set is selling rooms for and their average position against the competition. Other companies can do this, but Revcaster offers a 'deeper dig' into the comp-set rate viewing process; it is more flexible and easier to use. Plus, Revcaster is a very cost-effective service that helps our hotels increase revenue."
Duffett noted that Premier's Hampton Inn properties use Hilton's GRO revenue management program. "We easily integrated Revcaster's pricing data into Hampton Inn's GRO revenue management through a one-time setup that Revcaster handled. Daily Revcaster pricing data automatically flows into GRO to strengthen its pricing paradigm. We couldn't ask for a better tool to keep us ahead in our highly competitive markets." Click here for more information on Revcaster's services.
Pricing comparisons identify rate parity issues before they cost operators money
With weekly revenue calls to its properties' general managers, Premier runs a tight ship. The company appreciates the competitive market intelligence Revcaster provides its GMs to help set the ideal rate based on daily market dynamics. The service also pinpoints areas that need attention and helps managers adjust rates accordingly. "We might see that three competitors are dropping rates on a specific day," said Duffett. "This is an indication that we should dig deeper into why it is happening and respond, if necessary, before it affects our bottom line. There may be local issues we are not aware of."
Premier's Revcaster pricing service also provides alerts that highlight parity issues. One of Premier's brand-property central reservation offices recently experienced a problem that prevented that hotel's rates from appearing on its online channels. "Revcaster's reports showed the property's rates were not showing up on Travelocity, Expedia and other channels," Duffett said. "The issue was clear in Revcaster's reports. One call to our brand's CRO fixed it before it cost us a great deal of money. That's the beauty of Revcaster."
Test forecast validity
Premier Hotels & Resorts adapts its services for each type of property in its portfolio. "We analyze each property's pricing for both one-night and multi-night stays depending on the market," said Duffett. "Revcaster is a partner that works with us to provide flexible reporting for a wide spectrum of price-optimization needs."
Revcaster also provides reports on specific markets with a 360-day window to see how pricing is set a year forward. "This tells us a great deal about the level of confidence an operator has about its market," Duffett said. "If we are evaluating a property, Revcaster's data helps our analysis be more accurate. We can test the validity of a manager's forecast, and in so doing be more valuable to our operators. We can also demonstrate Premier's value to prospects who are considering coming on board with us."
Flexible, cost-efficient
Revcaster provides one-off reports quickly to answer specific questions a property might have while setting rates. "Other rate shopping companies provide this, but at considerably greater expense," Duffett said. "Revcaster has a low monthly fee for its services." And for a management company with multiple brands and independents in its "family," Premier appreciates Revcaster's flexibility to suit an array of diverse needs.
About Premier
Premier Hotel Corporation is a leading professional hotel company. Based in Enigma, Georgia, Premier provides property management, asset management and development services throughout the United States and Canada for full service, limited service and extended stay hotels.
About Revcaster
Revcaster is the leading provider of flexible, cost effective hotel pricing tools to help hoteliers maximize ADR and be more profitable. Developed by hoteliers for hotel operators, Revcaster's application collects market-specific comp-set hotel price information from hundreds of branded sites and online travel agencies and provides easy-to-use reports and data downloads. Reports are available anytime online in daily, weekly or other user-specific delivery formats. The company's API makes it super easy to download pricing data into any revenue management tool or PMS its clients prefer. Revcaster's professional customer-centric approach to project implementation and support, proven track record, and installed base of 4000+ properties underscores Revcaster's unrivaled grasp of intelligent pricing principles for the hotel industry.