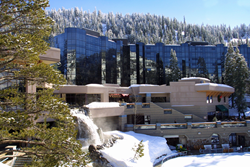 Revcaster delivers cost-effective reporting on comp-set rates better than other companies.
(PRWEB) February 11, 2015
Destination Hotels announces the implementation of Revcaster's rate shopping tools. Destination Hotels (Destination) is the largest operator of independent hotels and resorts in North America and is consistently ranked by Hotel Business as one of the top ten hospitality and property management companies in the country. Revcaster maximizes ADR based on same-day competitive rate information for Destination and establishes rate parity across OTA channels. Revcaster is the trusted leader in flexible, cost effective hotel rate shopping tools. Click here for more information on Revcaster's rate shopping tools for hotels.
"We researched rate shopping tools and selected Revcaster for its real-time reports, ease of use, and dynamic flexibility," said Destination Assistant Vice President of Distribution, Jon Lazarus. "Revcaster delivers cost-effective reporting on comp-set rates better than other companies. We get same-day rates or click on specific dates and see the rates our properties offer by room type, date or specific channels. This is powerful data that helps us optimize rates competitively and establish rate parity across appropriate channels."
User-friendly reports let Destination properties offer the best rate on all channels
Revcaster offers multiple user-friendly reports. It created custom parity reports for Destination to identify property parity challenges easily and quickly. "Revcaster's daily reporting makes it easy for us to contact our properties to ensure they offer the best rate on all channels," Lazarus said.
Daniel Wise, Revcaster CEO, said, "Other providers restrict their system's use and have a higher cost. Revcaster offers multiple easily configurable reports at budget-friendly prices. We created custom parity reports for Destination that identify each of its property's parity easily and quickly. This makes it very easy for its revenue management team to contact operators to help establish the best rate."
Lazarus said, "Destination believes in rate parity. Revcaster enables us to verify parity on multiple channels to establish a level playing field on all channels. We value Revcaster's indexed relative price reports that show highest and lowest rates against competitors. We have gone back to check these metrics to establish a booking window and compared it to our STR numbers to see how we have done to market from an index perspective. We also can see at what price consumers start to book and we can modify our rates according to the market demand.
About Revcaster
Revcaster is the leading provider of flexible, cost effective hotel rate shopping tools to help hoteliers maximize ADR and be more profitable. Developed by hoteliers for hotel operators, Revcaster's application collects market-specific comp-set hotel price information from hundreds of branded sites and online travel agencies. Revcaster provides easy-to-use reports and data downloads. Reports are available anytime online in daily, weekly or other user-specific delivery formats. The company's API makes it super easy to download pricing data into any revenue management tool or PMS its clients prefer. Revcaster's professional customer-centric approach to project implementation and support, proven track record, and installed base of 5000 properties underscore the company's unrivaled grasp of intelligent rate shopping principles for the hotel industry.
About Destination Hotels
Destination Hotels (Destination) is the largest owner and operator of independent hotels, resorts and residences in the United States. Headquartered in Denver, Colorado, Destination is an industry leader with more than 40 years of hospitality management and development experience. Located in premier destinations, the portfolio is continuously growing with more than 40 luxury and upscale properties from coast to coast. The award-winning company operates 20 golf courses, 19 full-service spas, six IACC-certified conference centers and 105 bars and restaurants. The privately-owned company is a subsidiary of Lowe Enterprises, a Los Angeles-based investment, development and real estate firm. For more information on Destination Hotels, visit http://www.destinationhotels.com. Follow us on Twitter: @Destination. Like us on Facebook: DestinationHotels.