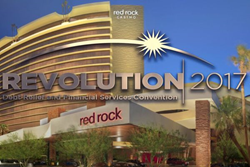 Revcon2017 provides an outstanding opportunity for us to bring innovative strategies and tech to the debt relief industry.
Rolling Meadows, IL (PRWEB) July 11, 2017
Datapult Marketing, a data-driven consulting and marketing firm, is proud to announce their sponsorship of Revolution 2017, taking place at Red Rock Resort and Casino, September 17-19. The conference brings together industry leaders to focus on unity, strategy, and innovation in debt relief and financial services. Datapult is excited to join the industry leaders at this incredible event.
"Revcon2017 provides an outstanding opportunity for us to bring innovative strategies and tech to the debt relief industry. We see our company perfectly aligned with the conference's mission, and we couldn't be more excited and honored to be a part of this monumental event," explained Bill Jones, President and CEO of Datapult.
As part of their sponsorship, Datapult will send co-founders Bill and Jennifer Jones to showcase Datapult's incredible platform. In addition to showcasing their company on the exhibition floor, Bill, a tech expert and executive tech strategist in behavioral analytics will also be leading a not-to-be-missed presentation on how big data impacts financial services. According to Bill, "This industry cannot advance into the mainstream without a comprehensive understanding of how data impacts your business. It's time to push the debt relief and financial services industry into the technology age. Fintech is engaging the space and the tools and experts are available. Revcon2017 is merging them all. Brilliant."
Bill Jones has worked with Fortune 200 companies across a variety of financial service industries, helping them to drive innovation and grow their business. Drawing from his consulting experience, Bill's presentation will cover:

Data's role in improving the customer experience
Best practices for implementing data-driven strategies
Proof that data drives revenue and market share growth
Datapult Marketing is a consulting and marketing firm that puts data at the core of everything they do. They use data to help clients understand their customers, grow their revenue and streamline marketing spend. As Bill puts it, "This is an exciting time to be in data and analytics. We know more about consumers than ever before, and that information can be used to make marketing more impactful, more personalized, and more likely to convert."
Come see Datapult at Revcon2017 to learn how they can launch your marketing to new heights, improve your customer engagement, and grow your business! There is a seriously impressive lineup of speakers that will challenge your thinking, expand your arsenal and bring you into the technology age. We'll see you there!