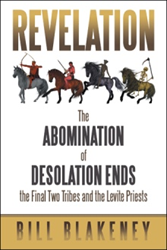 TITUSVILLE, Fla. (PRWEB) October 03, 2017
Concerned that too many theologians were using subjective interpretation rather than hermeneutical scriptural evidence, Bill Blakeney wrote "Revelation: The Abomination of Desolation Ends the Final Two Tribes and the Levite Priests" (published by LifeRich Publishing) to bring alternative interpretations to light to clarify whom the apostle John wrote to and why.
Endeavoring to correct errors creeping into doctrine, Blakeney argues that the Book of Revelation was written to the new Israelite Christians to warn them of the impending danger of the Roman soldiers dedicated to the extinction of the Jews and all Israelites in Jerusalem and Palestine. In addition, he contends that Revelation reveals the end of the twelve tribes, the Levite priesthood and Judaism. Finally, Blakeney states that Revelation unveils the city that will replace Jerusalem and ensure eternal life in heaven who believe in Jesus as the Messiah.
"This book uses the Bible coupled with objective interpretation and clarifies much of the symbolism that the apostle John used. As-a-result, clarification and understanding will be achieved," Blakeney says. "This book will take John's mystery into the arena of understanding and comprehension."
"Revelation"
By Bill Blakeney
Hardcover | 6 x 9 in | 162 pages | ISBN 9781489713711
Softcover | 6 x 9 in | 162 pages | ISBN 9781489713704
E-Book | 162 pages | ISBN 9781489713698
Available at Amazon and Barnes & Noble
About the Author
Bill Blakeney was born in Villa Grove, Illinois. He attended Lincoln Christian College in Lincoln, Illinois, and Oklahoma Christian College in Oklahoma City, Oklahoma. Blakeney learned about hermeneutics from Lincoln Christian College and obtained a Bachelor of Arts in missionary studies from Oklahoma Christian College. He also has a commercial pilot's license. Blakeney is also the author of "Doctrinal Defense Guards," printed by Dorrance Publishing.
LifeRich Publishing, the strategic publishing partnership of Reader's Digest and Author Solutions, LLC, was created to provide all writers a platform for sharing their stories, recipes, advice and more. LifeRich authors will benefit from a wealth of editorial design, marketing and education resources, specially created by Reader's Digest editors for the enrichment of these LifeSmart individuals. Books can be published in print, ebook or audio formats, with additional distribution to up to 25 million Reader's Digest customers through its online properties. Follow @LifeRichPub on Twitter or "Like" us at facebook.com/LifeRichPublishing for the latest updates.