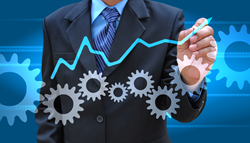 'The CEO secret ingredient for growth?' is that the 'CEO must have a 'change agent' who can be their lieutenant to design and implement the needed changes
New York, NY (PRWEB) November 29, 2014
David Hubbard, the founder of Marketing Outfield and an expert in revenue growth, has just posted a new article to his LinkedIn profile that offers in-depth and helpful advice about the best revenue growth strategies a company can utilize to be successful.
Titled "CEO Secret Ingredient For Revenue Growth," Hubbard begins by explaining what he feels can contribute to lackluster growth in a company, as well as who is typically responsible for the situation. For example, while sales leaders have traditionally been blamed for less-than-stellar business development, CEOs are also starting to look to their marketing leaders for accelerated revenue growth. While holding these executives accountable for their work may make some sense, Hubbard wrote that this may not be enough to ensure a company's revenue growth.
While most companies are struggling with revenue growth, Hubbard offers best practices research that indicates that other companies are able to achieve double-digit revenue growth.
"Clearly, something has changed in the marketplace that is affecting most companies regardless of industry and economy. Some companies have adjusted to this market change, others have not."
Despite a company's best efforts to profitably grow its revenues, Hubbard noted, the company's revenue-generating activities are no longer sufficiently aligned with the company's target buyers. In this quickly changing digital, social and mobile connected marketplace, the purchasing process of the company's target buyer is evolving faster than the company's sales, marketing and product strategies. The company's various revenue generating groups are no longer aligned by an effective revenue strategy and process.
"As most CEOs know from experience, 'alignment' is often code for changing cross-functional business processes, integrating systems cross-functionally, modifying organization structure, adjusting budgets and/or tweaking incentive plans," Hubbard wrote.
"You don't have the time or energy to lead such an initiative. Or, maybe you lack the Sales and Marketing expertise to tackle such a project. However, delegating cross-functional leadership to a senior executive is problematic. As soon as someone other than the CEO tries to impact change to a function's budget, compensation, or priorities then productive change seems to grind to a halt.
"'The CEO secret ingredient for growth?' is that the 'CEO must have a 'change agent' who can be their lieutenant to design and implement the needed changes," concluded Hubbard. It could be one of the company executives, or an outside consultant, Hubbard noted, as long as the person has cross-functional revenue generation experience, can design and implement a successful plan of action, and will roll up their sleeves to help the company's Sales, Marketing, and Product Management groups execute a successful realignment.
"The marketplace has changed. For your company to increase revenue faster than its competitors, your revenue functions must stay aligned to your target buyer," Hubbard concluded.
About David Hubbard:
David Hubbard is a proven business leader, a pragmatic revenue growth consultant, and the CEO of Marketing Outfield. With a unique professional track record within the Sales, Marketing, and Product Management functions, he brings a frank and unbiased perspective to his clients about accelerating revenue growth.
About Marketing Outfield:
Marketing Outfield is a consulting and implementation firm focused on helping companies and nonprofits cost-effectively accelerate their revenue growth. The company offers strategic revenue consulting, sales and marketing program execution, and interim executive leadership.