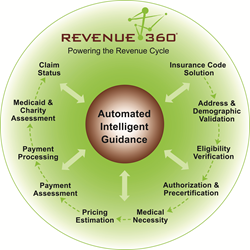 With Revenue360 we are now in a position to fulfill our commitment to provide price transparency to our patients while at the same time enhancing processes for our staff.
Beaverton, Oregon (PRWEB) February 26, 2015
Provider Advantage NW Inc., a national provider of revenue cycle software solutions for hospitals, announced that Princeton HealthCare System has contracted to implement Revenue360, to address a myriad of revenue cycle data and cash collection issues. Princeton HealthCare System will implement the Eligibility Verification and Pricing Estimation modules at its acute care hospital, University Medical Center of Princeton. Revenue360 Eligibility Verification provides automated, immediate access to patient insurance eligibility and benefit information, resulting in significantly decreased claim denials. Revenue360 Pricing Estimation provides patients with credible out-of-pocket cost estimates, drastically increasing upfront cash collections while decreasing collection costs and bad debt.
The Revenue360 platform integrates seamlessly with QuadraMed Affinity® — Princeton HealthCare System's registration and patient accounting system. Revenue360's Eligibility Verification module returns customized benefit information based on hospital-specific business rules, coordinates benefit information across carriers and effectively updates the insurance and patient demographic information needed for claims processing.
Princeton HealthCare System will utilize the integrated Revenue360 Pricing Estimation module to quickly calculate the patient's total out-of-pocket portion of medical charges, prior to services being rendered. This helps the hospital better communicate with patients while properly setting accurate payment expectations.
Revenue360 enables healthcare providers to transparently integrate and manage multiple revenue cycle processes without disrupting the registration flow. Revenue360 guides and supports patient-facing staff through complex revenue cycle functions, resulting in improved financial performance, increased staff morale and enhanced patient satisfaction.
"Revenue360's integrated Eligibility Verification and Pricing Estimator allow us to enhance the way we schedule and register patients," said Laurie Grey, Executive Director of Revenue Cycle Management at Princeton HealthCare System. "With Revenue360 we are now in a position to fulfill our commitment to provide price transparency to our patients while at the same time enhancing processes for our staff. We are happy to partner with Provider Advantage to help us achieve our revenue cycle financial objectives."
Princeton HealthCare System expects this investment in Revenue360 technology to increase staff productivity, reduce accounts receivable days, increase cash collections and minimize claim denials and re-processing.
About Princeton HealthCare System:
Princeton HealthCare System is a comprehensive, integrated healthcare system that strives to anticipate and serve the lifelong needs of central New Jersey residents, including acute care hospital services through University Medical Center of Princeton, behavioral healthcare through Princeton House Behavioral Health, rehabilitation, home care, hospice care, ambulatory surgery, a primary and specialty medical practice, and fitness and wellness services. For more information, visit http://www.princetonhcs.org.
About Revenue360®:
Revenue360 helps hospitals get paid more, faster.
Revenue360 simplifies front-end revenue cycle processes and drives higher point-of-service collections, decreased accounts receivable days and bad debt, while simultaneously increasing patient satisfaction scores. Providing automated intelligent guidance based on hospital business rules, Revenue360 simplifies complex processes including: eligibility verification, identity validation, medical necessity, pricing estimation, payment assessment and payment processing. Revenue360 reduces rework, increases and accelerates revenue capture, and improves patient communication.
Visit our Revenue Matters Blog for up to date hospital revenue cycle management news.
Identify, Communicate & Collect: http://www.Revenue360.net
About Provider Advantage:
Since 1991, Provider Advantage NW, Inc. has been providing innovative products and services to access real time healthcare data. Provider Advantage develops, markets, installs, and supports electronic data interchange (EDI) technologies that allow organizations to obtain, utilize, and manage insurance data to generate operational efficiency and improve cash flow. For more information, contact Provider Advantage NW at (800) 337-5482 or at http://www.provider-advantage.com.
Provider Advantage and Revenue360 are registered trademarks of Provider Advantage NW, Inc.
© 2015 Provider Advantage, Inc.
All Rights Reserved