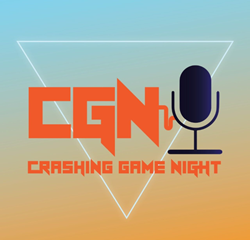 "During the podcast we will be talking about the latest news and rumors in the gaming and movie industries." -Matt Diorio
LOS ANGELES (PRWEB) May 17, 2021
Shining light on the career opportunities and all facets of the gaming industry Crashing Game Night led by the indestructible quartet, Matt Diorio, Gerard Barrera, Theo Wolski and Jason Balidio, serves as a valuable resource for gamers and comic fans alike.
In the debut live stream Matt shares, "We will talk about the games we have been playing lately and give our take on the latest movies we have seen. We will have guests crashing game night, talking about what got them into their entertainment area and what their favorite games are to play on game night."
Recent episodes of Crashing Game Night have seen Podcast Hall of Famer, Danny Peña (Gamertag Radio), content creators Yunalescka and Soldier_1stClass, Throwdown Show host, Tony Palanco, and the Voice Actor for Roche of Final Fantasy 7, Austin Lee Matthews, while covering topics from gaming careers and Wandavision to the bullying taking place in the Final Fantasy, the new Nintendo Direct and latest announcements from Xbox, Sony, Microsoft and Bethesda.
CGN offers integral reviews of the latest video games, mobile games, movies, gaming accessories and debate hot topics. Diving deep into nerdlandia, the CGN crew are a labreith of valuable knowledge and enjoyable content fueled by the passion of bringing people the joy of good company, especially during 2020 part 2.
The CGN family met serendipitously at Disney during E3 2014. A weekend bond naturally progressed into a weekly gaming alliance that later gave rise to Crashing Game Night. Over the past year CGN's viewership has doubled and gone global. Find Crashing Game Night live on Twitch and on all major streaming platforms.