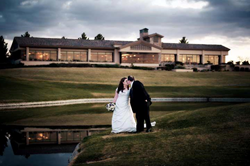 Las Vegas, NV (PRWEB) August 28, 2014
Brides who are seeking a unique Las Vegas wedding venue are invited to visit with top local vendors at the Revere Golf Club to experience this one of a kind wedding venue. The Bridal Open House will be held on Friday, August 29th from 6 p.m. to 8 p.m. in the main ballroom at the Revere Golf Club in Henderson, Nevada.
Brides-to-be and their guests are invited to sample passed hors d'oeuvres, specialty cocktails and gourmet dessert bar from our newly released wedding menu created by our award-winning Executive Chef while touring the sprawling clubhouse and event facilities. We have hand selected a variety of our preferred wedding vendors including photographers and videographers, transportation, bakeries, musicians and disc jockeys, accommodations, jewelers and many more for you and your guests to meet and experience their offerings.
"Planning a wedding can be stressful but if you are able to partner with responsible and reliable vendors, you can find the process to be much more enjoyable and fun," says Tom Badley, Director of Sales at Revere Golf Club, "We have designed our Open House to cater to brides seeking the best wedding processionals to make their special day everything they hoped it would be."
The Revere Golf Club provides a variety of ceremony and reception sites both indoor and outdoor each highlighting a unique feature of the Club including panoramic views of the famed Las Vegas strip. Offering accommodations for as many as 350 guests and providing all-inclusive wedding menus and packages, your wedding day will be handled with professionalism and care from start to finish.
Entry is complimentary and includes cocktails and appetizers. Pre-registration is suggested by visiting the Revere Golf Club online.
About The Revere Golf Club
Designed by PGA legend Billy Casper and architect Greg Nash, The Revere Golf Club at Anthem opened in April 1999 and is located at Del Webb's Anthem community, just 15 minutes from the Las Vegas Strip. The property features 36 holes of golf, practice facilities and a 23,000 square-foot Clubhouse that features expansive views of the Las Vegas strip. The golf courses have received national recognition through numerous awards, including: Golf Digest "4 ½ Star Rating," Golf World's "Reader's Choice Award" and Nevada Magazine's "Best of Nevada."
About Western Golf Properties
As problem solvers and reputation builders, Western Golf Properties has been at the forefront of developing and managing top golf facilities. Their experience working with more than 100 of the Country's most elite Clubs provides the Corporate team with great insight into smart business practices and operational efficiencies which result in quality conditioning, exceptional guest service and desired financial goals. For more information, please visit wgolfp.com or call 949-417-3251.