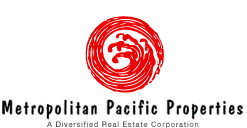 We're confident that we have the systems, the talent and the desire to satisfy all of your property management needs.
Astoria, NY (PRWEB) December 09, 2013
Leading New York City property management company, Metropolitan Pacific Properties, has been experiencing an upsurge in customer satisfaction levels in the form of rave reviews. According to local commercial property owners, Metropolitan is raising the standards for other New York property management companies in the area.
Metropolitan's clients report that property managers and administrative staff at the company remain easily accessible and responsive to them. Experienced property managers with 30 years of experience answer client calls promptly, provide accurate billing services and make sure their client's buildings are kept clean.
"We meet our clients' high standards and we deliver superior customer service by exceeding expectations daily," says Steve Osman, President and CEO of Metropolitan Pacific Properties. In fact, executives say that Metropolitan Pacific Properties reviews posted on their website can help property owners avoid the costly mistake of choosing the wrong property management company.
One customer's review of Metropolitan's Coop management services says, "I am the president of my Coop and hired Metropolitan Pacific 4 years ago. The major difference my Board has found over our previous property management companies is how attentive they are. They return our phone calls, emails, texts. They are very automated and up to date with their financial reports and have CPAs on their full time staff. I don't know another management company that has not one, but multiple CPAs in house. We thank you MetPac, you truly raised the bar for all other property management companies."
Another customer reports that Metropolitan is helping to improve his life. "Overall my quality of life is all around better, and I can thank Metropolitan for that!" Staying in touch with building residents and delivering on promises made are cornerstones of Metropolitan's unique approach to property management. One customer's remark encapsulates this superior service level: "they pay close attention to our wants and needs as residents. Bravo Metropolitan for doing such a great job."
Customers also speak about the difference they noticed when Metropolitan was put in charge of their 185 unit property. A popular property management review site reveals, "I feel like I live in a whole new building now that they [Metropolitan] took charge. My manager is so personable/professional with the Board and our residents and the workers." According to Executives and the company's website, "the difference is our people."
New York property owners, HOAs and operators looking for a highly rated property management company in NY are encouraged to contact Metropolitan Pacific Properties directly at (718) 626-4400 and to learn more at metpacproperties(dot)com.
About Metropolitan Pacific Properties:
Metropolitan Pacific Properties is top rated New York property management company that has been in business for over 19 years managing properties of all sizes (from 50-1,000+ units). Our managers have over 30+ years of experience both in the management field and as Board Members. Whether it is managing commercial, industrial, institutional or residential properties, the company provides a competent management team, superior service level and a personable approach to conducting business that outperforms other firms. Uniquely, Metropolitan also provides Government building property management services for U.S. Government buildings and foreign government buildings, including Consulates to the UN and Missions to the UN. View the following video about Metropolitan Pacific Properties Reviews.