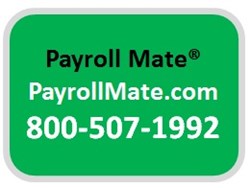 Payroll Mate is simply one of the easiest to use computerized payroll system packages in the US market.
(PRWEB) September 03, 2013
Payroll software reviews are very important to employers and tax professionals when making payroll and accounting software purchasing decisions. Payroll and 1099 Software developer, Real Business Solutions, is happy to announce that their Payroll Mate software has received outstanding reviews from the well-known software reviews website Download.Com .
For the second time Download.Com's editors have given Payroll Mate 4.5 stars (Outstanding) review.
Business owners and payroll professionals can download a free trial of Payroll Mate by pointing their browser to http://www.realtaxtools.com/ .
"Small and medium-size businesses do all kinds of different things, but one thing they have in common is they're in business. Something else they have in common is payrolls. Meeting them, managing them, recording them -- no wonder so many business owners and accountants always seem worried! It's a lot of responsibility. Payroll Mate 2013 from Real Business Solutions can help. It handles just about every part of the payroll process except providing the actual pay (sorry -- that one's still yours!) for a reasonable price. It can prepare payrolls, calculate taxes and withholding, print paychecks, create and export reports and data to a variety of databases and document types, and process forms, including W-2s and federal forms (and even some state forms, too). Payroll Mate is free to try for 30 days -- plenty of time to see if it's what your business needs. The latest release is fully compatible with Windows 8," said Download.Com's editor in one section of his review.
Payroll Mate is simply one of the easiest to use computerized payroll system packages in the US market. The payroll software steered away from over complicating the payroll management process and keeping the computer knowledge required to use the application to a minimum. The philosophy of Payroll Mate software makers is to keep things simple while providing a powerful and complete solution at an affordable price. Payroll Mate is trusted by thousands of businesses and tax professionals nationwide.
Download your free payroll software trial by visiting http://Payroll.RealTaxTools.com/.
Payroll Mate is always one of the first payroll preparation solutions to implement payroll updates and new government regulations. Year after year, thousands of businesses and accounting professionals trust Payroll Mate to do payroll and prepare payroll taxes.
Payroll Mate is excellent payroll software for accounting firms and tax professionals. Below is a short list of what this payroll system can do:

Computes employee gross pay, taxes, deductions, and net pay.
Automatically calculates federal and state payroll tax withholding.
Calculates employee and employer OASDI (Social Security portion of the FICA tax).
Calculates employee and employer HI (Medicare portion of the FICA tax).
Supports different types of pay periods including weekly, biweekly, semimonthly and monthly.
Supports customizable income, tax and deductions categories.
Exports Payroll checks to Quicken and accounting software like Microsoft Office accounting.
Can be used as QuickBooks payroll alternative with the ability to export payroll data to QuickBooks software.
Supports payroll vacation accrual and sick pay accrual.
Supports the following payroll forms: 941, 940, 943, 944, W-2, W-3, California DE-9, California DE-9C, Texas C-3 , Texas C-4, New York NYS-45, Illinois 941 and Illinois UI-3/40.
Prints IRS 1099 and 1096 forms.
Helps you track employee change history such as pay rate, marital status and allowance changes.
Supports income per mile and per piece.
Exports payroll reports to Excel, CSV and PDF.
Prints on Laser and Inkjet checks.
Prints on preprinted scannable W2 forms and W3 forms.
Generates comprehensive reports including payroll journal, tax liability and deposit requirement.
Generates Direct Deposit Files.
Prints MICR checks on blank check stock.
Give the payroll software from PayrollMate.com a test drive and see for yourself how easy managing payroll can be. Visit http://www.PayrollMate.com/.